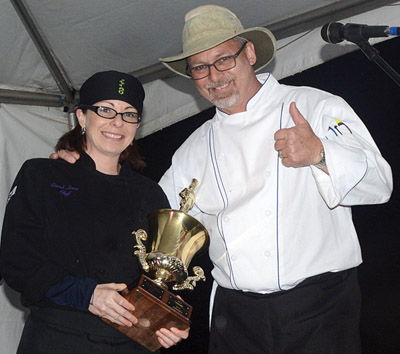 Deron Little, owner/executive chef of Seasons Innovative Bar & Grille, and Carol Scott, executive chef, earned Best Of Taste among 25 food preparers during Eighth Farragut Food & Wine Fest May 5, 2017, on the grounds of Renaissance I Farragut.

Shop Farragut and the Town of Farragut are getting ready for 9th Annual Farragut Food & Wine Festival presented by Turkey Creek Medical Center, which in past years has proven to be a regional draw with more than 1,000 attending.
 


The Festival is scheduled to run from 6:30 to 9:30 p.m., Friday, May 4, at 11240 Kingston Pike (former Kroger parking lot across from Farragut High School).

Among a dozen area business sponsors are major sponsors TDS, SouthEast Bank, Grayson BMW, Costco Wholesale and EXIT Realty.


"The Festival was created in 2010 to draw attention to our local eateries. From hometown bakeries to 4-Star experiences, it is a showcase of 'best bite' samples from Farragut's area restaurants and food providers," said Stephen Krempasky, Shop Farragut/Farragut Business Alliance executive director. "Patrons can pair those bites with wines, beers and ready-to-drink cocktails (ID required).

"We know once attendees try these delicious samples, they will return – with friends — to visit these businesses in Farragut and enjoy more," he added.

Beer lounge features beverages from The Casual Pint of Farragut and Mind Yer P's and Q's, plus the exclusive "VIB," or "Very Important Bites," tents.

The VIB experience gives VIP patrons a sit-down 4-course plated offering from different chefs. Each course is paired with a specific wine and explained by the experts while volunteers serve.


Other participating food preparers are Restaurant Linderhof, The Cutting Edge Classroom, First Watch Café, Dickey's Barbeque Pit, The Juice Bar, Costco, Seasons Café, Buttermilk Sky Pie Shop, Citico of Wind River, Clean Eatz, Don Delphi's Pancakes & Restaurant, Water Into Wine, Longhorn Steakhouse, Buddy's BBQ, Tropical Smoothie Café, The Blue Heron Restaurant and Turkey Creek Medical Center/Morrison's.



General admission tickets are $30 for adults (if purchased in advance) or $35 if purchased at the gate. VIB seats are limited to the first 100 sold and are $75. Admission for children under 12 is $10 in advance or $15 at the gate, with children under 5 free.


Tickets are available at all Knox County ticket locations: online at https://buy.knoxvilletickets.com/online/article/ffw2018/, by phoning 865-656-4444 or stopping by these Farragut businesses: McEntyre & Mays Interiors, West End Center;
Goin' Postal, 11519 Kingston Pike; and
Y-12 Federal Credit Union. 13128 Kingston Pike. Tickets will be exchanged on-site for punch cards giving attendees a record of their samplings throughout the Festival.


Volunteers receive complimentary admission and a Festival T-shirt for a few hours of service. To volunteer, visit info@farragutbusiness.com/.