Season begins March 29 for Town's 8 miles in Fox Den, Village Green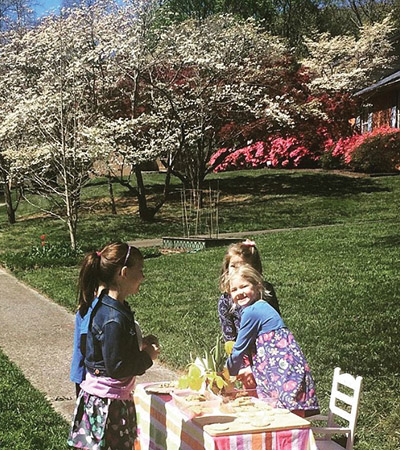 oung residents capitalizing on thirsty trail-drivers are, in front, Miller Rothenberg, 8, left, and Lilly Nicholson, 8.

Now that her children have reached post-preschool years, Hana Rothenberg said she has time to make her yard, which is along the Farragut Dogwood Trail in Village Green, look special.

With children ages 7 and 8, "I'm just getting to the point where I can get out and have some free time to make my yard look nice," said Rothenberg, Farragut's representative on the Dogwood Arts Trail Committee. "I finally remembered to plant bulbs [last] fall, a whole bunch. … I planted daffodils and iris, something my grandmother always loved.

"I've learned my lesson: you really have to do a lot of the legwork in the fall in order to enjoy all those blooms in the spring," she added, while also mentioning the need "to get all the good nutrients in the yard for a nice lawn, making sure you're cutting back weeds and trimming trees.

"It's really a year-round thing."

Beyond her own home, "I love my neighborhood and I really appreciate that aspect of culture that the Dogwood Trail brings," said Rothenberg, whose husband, Darren Rothenberg, is a 1996 Farragut High School graduate who started in the offensive line, and graduated from, Vanderbilt University. "I've never lived in a place where there's something so unique about our neighborhood.

"I kind of wanted to be part of something, so this is my way to be a little bit of a part," she added.

Rothenberg said every year in late winter, "I get really fired up for spring. Probably all of us [along the trail] do."

Though having lost "several trees" during severe storms in 2011, "We have one beautiful one that hangs out over the street, which is just lovely," she said. "And we have several on the property line with our neighbor."

Speaking about the Farragut Trail's 8-mile stretch, which also includes Fox Den subdivision, Rothenberg said she liked the bus trails that used to run from downtown Knoxville through the Farragut Trail and back — about a two-hour trek.

"I think there was a grant from the Town of Farragut that has supplied that in the past," she said. "They skipped it last year. In the past, that is unique to Farragut, that we've had the tours.

"We had a lot from out-of-town, believe it or not," Rothenberg added. "Dogwood Arts Trails draw visitors from around the country and even beyond."

Rotherberg said about the Farragut Trail, "I don't think it's one of the oldest ones, but it is one of the better-maintained trails. Along with Sequoyah Hills, they are probably the best maintained as far as lots of money invested into yards."

Bragging on her in-laws, Dale and Myra Rothenberg, "They live in Country Manor on Clover Fork [Drive], and they do have one of the largest, if not the largest, dogwood trees in their front yard. It's beautiful," she said.

As an added attraction, "They have one of the oldest, largest tulip popular trees — it is huge. … When I was running the bus tours a lot of people were interested at stopping and looking at it," Rothenberg added. "I think it's like 200 feet tall. That's kind of unique to our trail."

She also credited Dogwood Arts Committee for supplying "tons of dogwoods and flowers to make it really spectacular" in nearby Founders Park at Campbell Station along North Campbell Station Road. "There's tons of color in that park, and a lot of that has been due to the Dogwood Arts Committee."

A business development manager with Empire Distributors of Tennessee, Inc., Rothenberg said she wanted to encourage everyone along the 8-mile stretch to "take ownership" to make their property as attractive as possible, realizing they have "this unique thing" in the county.

She also spoke kindly about her "really cool group of neighbors.

"I get the feeling we're going to have a really great spring," Rothenberg added.