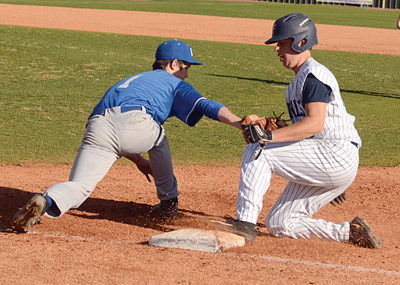 Jake Evans, Admirals baserunner, slides back safely at first base against KHS.

KNOXVILLE — Owen Kovacs hurled a no-hitter Monday night, April 2, as the Admirals routed rival Bearden 11-0 in a five-inning game at BHS's Phil Garner Ballpark.

However, "I didn't have my best stuff," said Kovacs, the FHS junior righthander who finished the game with two strikeouts, one hit batsman and one walk while keeping the Bulldogs at bay. "But I made the pitches that I had to make and my defense backed me up."

Adding this big rivalry win to a 4-1 record the Admirals compiled during annual DeMarini Classic action Thursday through Saturday, March 29-31, at FHS — beating two Ohio opponents, one Indiana foe and Clarksville — and Farragut's record stood at 13-5 overall, 4-2 in District 4-AAA after Monday.

Farragut head coach Matt Buckner also acknowledged Kovacs didn't have his strongest outing, but the veteran coach couldn't find much wrong with the results.

"Owen did a good job, even though I'm sure that he'll be the first to tell you that he didn't have his best game," Buckner said. "But he threw a no-hitter and there ain't nothing wrong with a no-hitter, no matter how you get it."

Bearden fell 6-7 overall, 2-3 in 4-AAA.

Four Bulldog pitchers labored all evening, walking or hitting eight batters Monday night.

Bearden head coach John Rice said his pitchers have struggled to find the strike zone recently.

"We can't throw strikes," he said. "You're not going to win games if you give up seven, eight, nine or 10 free passes. We gave up eight tonight and that's 45 in eight games. You're not going to beat a quality team like Farragut because Matt does a great job.

"There's nobody on our staff, or any other staff, who doesn't want to throw strikes," Rice added. "Eventually, this all falls on me because I'm the head coach. I've got to put pitchers out there on the mound who can throw strikes."

Things looked promising for the Admirals in the top of the first against Bulldogs starter Carson Matthews: leadoff hitter Ashton King was hit by a pitch and Parker Noland singled — but the threat died.

The second inning was a different story, as Farragut scored four runs without the benefit of a hit.

King drove in the game's first run with a groundout. Farragut added three more when its hitters were either plunked or walked with the bases loaded. The Ads also scored on a wild pitch.

Farragut went up 7-0 in the fourth as King homered to lead off the frame. Jerry Hammons hit a two-run shot later in the inning.

The Admirals would add four runs in the fifth as Paul Komistek had a two-run single and King had an RBI single.

Noland knocked in a run when he reached on an error.

Bearden pitchers Carl Beech, Joseph Allen and Harrison Mosely all saw stints in relief.