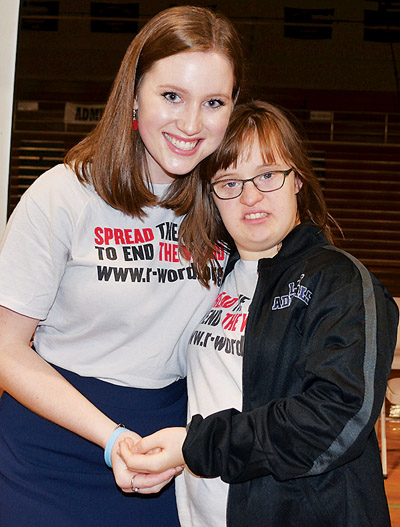 Natalie, left, and Olivia Campbell

A sister's love inspired a movement that is still going strong at Farragut High School.

The national Spread the Word to End the Word Campaign, designed to eliminate the use of the word "retarded" as a personal description or slur, was instigated locally by Natalie Campbell, whose younger sister, Olivia, was born with Down Syndrome.

Campbell started the movement at Farragut Middle School and carried it with her to Farragut High, which continues to commemorates it though Campbell has since graduated and is currently a University of Tennessee sophomore.

Today, the "Spread the Word" campaign is continuing under the direction of FHS varsity girls basketball head coach Jason Mayfield and FHS business teacher Carrie Everett and is one of several service-related projects carried out by the school's chapter of the Chick-fil-A Leader Academy.

"It really encourages the use of a different "R" word — respect," Mayfield said of the movement. "Most people don't think of it as hate speech, but that is what it is."

The annual FHS Spread the Word to End the Word assembly was held recently.

Natalie Campbell returned for the event, sharing the beginning of not only the movement at FMS, but also her own personal experiences and life choices.

"In October, 1999, Olivia was born with Down Syndrome," she told the group. "It changed the tone of our family [which includes their parents, Joe and Jackie Campbell], to one of compassion."

Olivia's disabilities and initial limitations caused her sister to become protective both inside and outside their home.

It also made Natalie that much more aware of how others sometimes see disabilities in general, and she struggled to find the right words to address the subject.

It was the girls' mother who approached Natalie about the "Spread the Word" campaign, which was already in existence in other areas.

"At the time, I thought, 'that would be cool for someone to do — not me — but for someone to start it.'"

"But the idea stuck with me, and it became very persistent. Even though, I was terrified to talk about this topic that was deeply personal to me … I decided I would not let my fear control me.

That first year was such a success that it became an annual event and spurred visible change.

Changing attitudes have provided Olivia, now an FHS junior, the opportunity to be a member of the Lady Admirals basketball team.

Campbell, who plans to become a human rights attorney, specifically to aid individuals with intellectual disabilities, said she envisions the far-reaching effects of "Spread the Word, End the Word" to extend beyond high school.

"To girls [here today] who may become mothers of children with disabilities, maybe they could look back and remember seeing my sister as being happy and content," she said.

"... I would want you [all] to be able to look back on your experiences, now, and see how so much has changed and know you were part of that change," Campbell added.