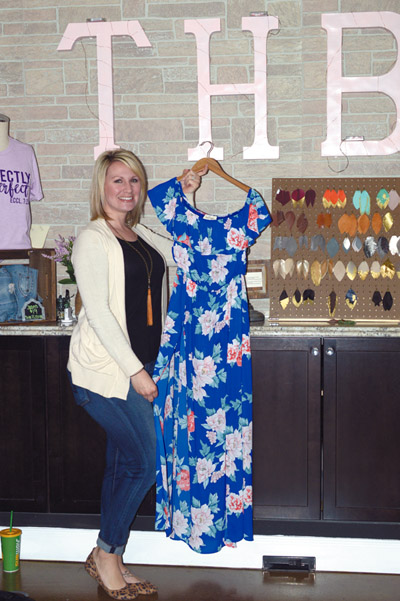 Tara Hilliard jumped into the fashion world in May 2017 when she started an online clothing and accessory retail business, Totally Her Boutique, and followed that up by opening an on-site store.

Business has grown for owner Tara Hilliard since she opened Totally Her Boutique in Elite Suites Salon Studios at the end of October 2017.

"She has been with us for a few months, but her business has really taken off in 2018," said Kimberly Garrison, co-owner of Elite Suites at 10536 Kingston Pike, next to Walker's Automotive Collision Repair.

"[Hilliard] carries a wide variety of clothing and accessories that include manufacturers from all over the world, as well as local designers who hand-make many of her jewelry pieces, Garrison said. "She personally hand-selects every item in her boutique and has new styles arriving daily."

Hilliard started her business as an online clothing and accessory shop in May 2017, selling all her merchandise online, on Facebook and on Instagram before moving into Elite Suites.

"I still have my website, Facebook and Instagram — just four different ways of selling," she said. "I guess that's what everyone's going to.

"I do festivals, too," Hilliard added. Totally Her Boutique's styles are simple and casual, and they can be accessorized to be "dressed up" or "dressed down," Hilliard said.

Customers will find dresses, jeans, jewelry, such as Ahyoka feather earrings, and other accessories from brands including Umgee, Entro, 143 Story, LL Love, KanCan jeans and Easle.

However, she said, "I go more with what's trending and popular than specific brands."

Hilliard was inspired to start her own business as a result of her own shopping experience.

"I would go shopping and I never could find a whole lot that I wanted around town," she said. "I was ordering online.

"I thought if I had that issue, then other people may have that issue as well," Hilliard added. "I like the more casual things that you can dress up or dress them down, and everything was always a little too dressy for me.

"I like to be really comfortable. So, I was just sitting in bed one morning and thought, "I think I want to [start an online business], and my husband was like, 'Whatever you want to do.'"

However, Hilliard said she had no background in fashion.

"I came from the automotive (industry)," she said and laughed. "I can tell you, from bumper to bumper, how everything works on a car; so (retail fashion sales is) a different world — a completely different end of the spectrum."

After getting her business license in May, Hilliard researched online shopping businesses and traveled to a market in Atlanta, where she picked up some inventory and built her website.

She wanted to get the name of her business out to the public and, as her neighbor has a hair salon business in Elite Suites, Hilliard was encouraged to rent one of the suites.

Initially, she didn't think leasing the space would be feasible, but she observed, "It's a good way to start [a business]. Kim's got a good thing going here."

Opening her business in Elite Suites has helped her business grow, she said.

"It's helped me grow on Facebook and Instagram, and I've networked and found different networking groups of women," Hilliard said, adding business was good throughout the holidays.

"I've been able to get in quite a bit of different pieces of inventory since I've been here," she added.

"My ultimate goal would be to have more of a selection for ladies for whenever they come in I don't carry shoes yet. I just started doing jeans."

She also wants to create more awareness of her business. To get the word out, she said she has a Totally Her Boutique VIP group on her Facebook page to which women have to be accepted.

Hilliard interacts with the group by putting photos of clothing she likes on her page and asking viewers their opinions of the item.

Totally Her Boutique is open from 10 a.m. to 5:30 p.m., Tuesday and Friday; from 11 a.m. to 5 p.m., Wednesday; from 10 a.m. to 8 p.m., Thursday; and from 10 a.m. to 2 p.m., Saturday. It is closed Sunday and Monday.

For more information, call 865-466-1553, visit her website at www.shopthb.com or follow the business on Facebook and Instagram.