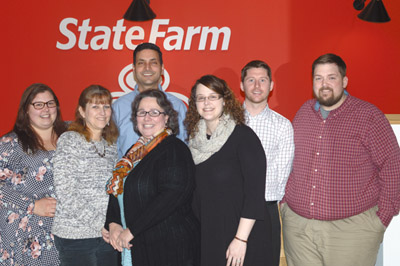 Mansour Hasan State Farm team welcomes the Farragut community to its new office, 10811 Kingston Pike next to Coldwell Banker Wallace & Wallace, Realtors. In back, from left, are Mansour Hasan, owner; Mark Patterson and Clayton Leasure. In front, from left, are Siobhan Simcox, Gail Angelucci, Pat Jestice and Sarah Lunsford,

Mansour Hasan has moved his agency, Mansour Hasan State Farm, to Farragut and is open for business.

"We're excited to be in Farragut," Hasan, owner/agent, said March 21. "We always frequent shops in Farragut. A lot of our clients are in Farragut, so to be a part of it is exciting."

Mansour Hasan State Farm, which works under the Hasan agency, previously was at Land Oak Office Complex, 10257 Kingston Pike — close to Pellissippi Parkway — for 12 years, but now is located at 10811 Kingston Pike, formerly Art & Frame Outlet building next to Coldwell Bankers Wallace & Wallace, Realtors.

"We've been here [in Farragut] for [almost] three weeks," Hasan said. "This week has been our full day, back to normal.

"We love it. We enjoy having this new space and the extra parking," he added. "I plan to be here for the next 30-plus years.

"We can be in the same facility for that long with as much space as we have."

Hasan said he wanted a space that could be used by the community, as well as his agency.

"We built it to be kind of modular from the standpoint that we could have events and let people from the community use it," he said.

There also is space in the back for future agency growth and community meetings, Hasan added. "Our mission is to connect insurance to relationships so that we can leave people in a better place," he said. "And, part of that ... is reaching out to the community, helping and being integrated into the community."

Hasan said he decided to move because his agency outgrew his former space.

"There were some parking and square footage issues," he added. "This facility allowed us to triple our square footage."

The new site also provides better visibility from Kingston Pike, officially gets the agency into the Town of Farragut and provides better parking and access onto Kingston Pike, Hasan said.

"I knew [Art & Frame Outlet] building was on the market, and I actually have been trying to locate [to Farragut] for three or four years," he said. "I had talked with Julie Dayton, who was the prior owner, about how I loved the space."

Through serendipity, Hasan was able to purchase the building. Then, his team gutted it and rebuilt the interior.

"The hardest thing was getting the telephones moved over," he said about the move. "We wanted to keep our number because we had it for 12 years."

March 1, Hasan's agency celebrated 12 years in operation.

"I took over for an agent, Jim Dyer, at his location," he said.

Mansour Hasan State Farm offers home, auto, life and business insurance. While the agency also provides health and disability policies, its main policies are home, life, auto and business.

Mansour Hasan State Farm is open from 8:30 a.m. to 5 p.m. Mondays through Fridays, and by appointment on Saturdays.

For more information, call 865-690-7100 or visit myknoxvilleinsurance.com.