SoccerDawgs whip Webb, Hendersonville, Gallatin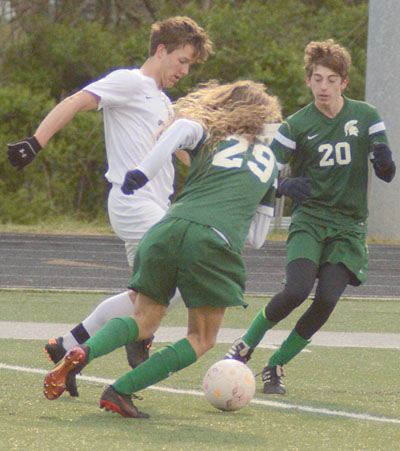 Bearden junior Jonathan Meystrik (white uniform) battles Webb sophomore Sidney Vafaie-Partin (29) and Spartans freshman Frank Sturm for ball possession.

KNOXVILLE — Despite seeing his team score a season-high five goals en route to recording a seemingly lopsided victory, Bearden High School boys soccer head coach Ryan Radcliffe wasn't happy.

"I wasn't pleased with the overall effort," Radcliffe said after seeing his Bulldogs defeat Webb School of Knoxville 5-1 in the Bearden Invitational at BHS's Bill Young Field Saturday night, April 7. "Maybe it was because we were tired because this was our third game in three nights. Or maybe it was because we had such an emotional game last night. I don't know. But there's no excuse.

"It's like I told the boys, 'there's no team that's good enough that they can just put a uniform on and win.'"

It was the fifth consecutive win for Bearden, which edged Hendersonville 3-2 Friday night, April 6, and opened tournament play with a 3-1 victory versus Gallatin Thursday, April 5.

Things started well for Bearden (5-2) on an unseasonably cold night that featured periods of cold rain and snow flurries.

It took the Bulldogs just 25 seconds to draw first blood in the match. Junior Collin Lewis gave his squad a 1-0 lead when he fired a shot past Webb goalkeeper Nicholas Pope.

Bearden would extend its advantage to 2-0 when Evan Downen tallied in the fourth minute off a pass from Caleb Wilkins.

Bearden dominated possession and controlled the tempo of the match. The Bulldogs had chances to put the Spartans (2-4) away, but BHS couldn't finish and Webb clawed its way back into the game when Will Miller scored in the 34th minute.

"My guys played well for the last 60 minutes of this match," Webb head coach Jared Ziegler said.

Wilkins tallied off an assist from Everett Houser.

Bearden added a pair of late markers when Connor Cross and Mitchell Mazrimas scored in the 71st and 79th minute respectively.

Lewis assisted on Cross's goal.