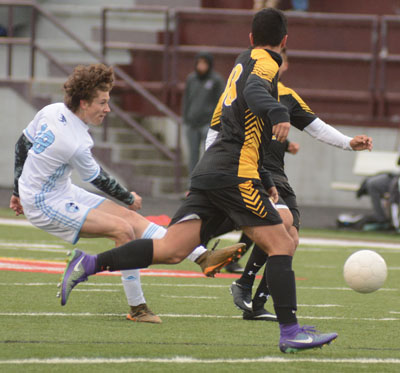 Firing a pass downfield is Daniel Guthrie, left, HVA Hawks senior midfielder/forward, against pressure from two Gwinnett players.

KNOXVILLE — When Hardin Valley Academy's boys soccer team played Saturday afternoon, April 7, it went up against a familiar face.

Former Hawks head coach Mike McLean was on the opposing sideline as head coach of Central Gwinnett, a top team from Georgia.

McLean and the Black Knights left the field with a 3-1 victory as Central Gwinnett scored two goals in the first 20 minutes. All the goals of the match were scored before halftime in a Bearden Invitational game at Bill Young Field on a cold afternoon filled with rain and snow flurries.

For his part, McLean, who had coaching stints with both the Hawks and Lady Hawks while teaching at Hardin Valley, said he was happy to return to Knoxville. He noted he and Central Gwinnett were going to attempt to make another trip to East Tennessee in 2019.

"It was great to be back," said McLean, who coached at both Karns and Hardin Valley before relocating to Georgia following the 2015 spring season. "I just hope the weather is better next year than it was this weekend, if and when we come back next year.

"It was great to see all these guys [from HVA] and play a pretty good game against them."

The Black Knights (11-4) scored the match's first goal in the fourth minute .

Central Gwinnett expanded its advantage to 2-0 when junior midfielder Miguel Gonzalez tallied about eight minutes later.

The Hawks (3-4-4) scored in the 18th minute to pull to within 3-1. Hardin Valley's goal came from senior midfielder Cameron Jeske, who played in McLean's program during his freshman season.

"It was great to see coach McLean and play against him," Jeske said. "I played for him here [at HVA] and I'm glad that I got the chance to score a goal against him.

"He probably didn't recognize me because I've grown like eight inches since he left," the Hawks senior added. "But it was great to see him and good to play against him."

"The effort was there and I thought our kids really played hard," HVA head coach Nick Bradford said. "We gave up goals on two shots from distance. We can usually stop those and I think we kept them onsides on that first goal."

HVA opened the Bearden Invitational with a 3-3 draw against Arlington. The Hawks finished their tournament stay with a 2-0 loss to Greeneville.

The Greene Devils, defending Class A-AA state champions, also edged Central Gwinnett 3-2 and knocked off defending Class AAA champion Houston 3-1 in tournament play.