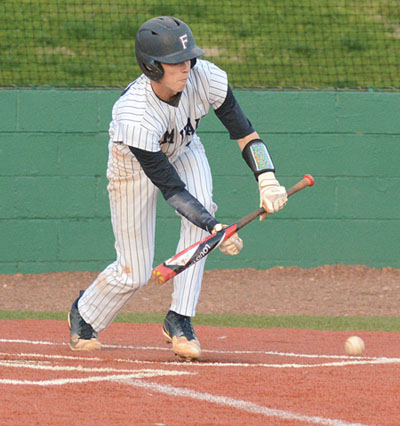 Ashton King, Admirals junior shortstop, lays down what turned out to be a bunt single during the Admirals' 9-run fourth-inning at home against Heritage Monday evening, April 9.

Despite getting off to a rocky start and falling behind by two runs early versus Heritage, the Farragut High School baseball team won another District 4-AAA game via the run rule.

The Admirals exploded for nine runs in the fourth inning en route to nabbing a 12-2 victory over the Mountaineers (10-6 overall, 4-3 in District 4-AAA) Monday night, April 9, at John Heatherly Field at the Ballpark in Farragut.

"We've been hitting the ball pretty well lately," Farragut head coach Matt Buckner said. "But [pitching] starts like we had tonight could cost you a ballgame. We didn't pitch well."

The Admirals (17-5, 5-2) pulled to within 2-1 on an RBI double by Jerry Mullins.

Farragut tied things in the second on a scoring single by Parker Noland, who finished with three hits and a walk. Noland's hit drove in Ashton King, who singled, with the tying run.

Paul Komistek and Alec Nussbaum each had two-run singles in the fourth inning.

Noland and Mullins each drove in runs with singles. Ryan McCarthy and Cade Burkey both drove in runs when they were each hit by a pitch.

"When we do things together, we play really good," Noland said

Farragut ended things in the bottom in the bottom of the fifth after Landon Smiddy had a flawless outing, pitching in relief, in the top of the inning.

McCarthy doubled to lead off the bottom of the frame and was lifted for courtesy runner Tanner Corum, who came home on an errant throw to third base following a wild pitch.