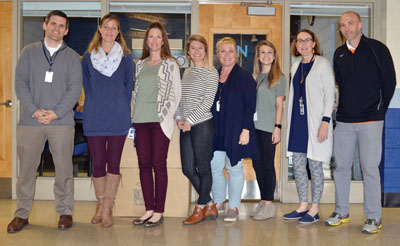 Farragut Middle School Principal Weston Edmonds, left, will be running in Breakthrough for Autism 5K Run Saturday, April 21, in Turkey Creek. FMS teachers also running, from left, include Rachel Brown, Nicole Jackson, Mandy Martin, Stephanie Morgan, Megan Brinkmann, Nancy Sills and Chris Cavalaris, eighth-grade teacher and FMS track coach who will be joined by a group of his athletes.

Though saying he "is no runner," Farragut Middle School principal Weston Edmonds accepted the challenge to run in last year's Breakthrough for Autism 5K, which came from FMS track coach and eighth-grade social studies teacher Chris Cavalaris.

Edmonds had quite a bit of time to think about this year's run — set for Saturday morning, April 21, in Regal Pinnacle Stadium 18 parking lot in Turkey Creek — and decided to offer FMS teachers an incentive to join him, Cavalaris and members of the track team.

"I was (thinking) we (could) get more participation with a theme attached to it," he said. "So, I'm offering any teacher who beats my time to be relieved of one week of bus duty.

"I just wanted it to be (a) casual and lighthearted (challenge)," Edmonds added. "Just something to get people excited and interested in a good cause."

As of early this week, 12 teachers had either signed up or at least indicated interest in the run, including sixth-grade teachers Mandy Martin, Stephanie Morgan, Megan Brinkmann and Nancy Sells; seventh-grade teacher Nicole Jackson; and eighth-grade teacher Rachel Brown.

"That's 11 more than we had last year," Edmonds quipped.

Cavalaris and members of his track team will be running for what will be the third consecutive year.

A former special education teacher, Cavalaris' interest was piqued when he found out about the Breakthrough for Autism run itself.

"Proceeds go to help adults with autism, and it really is a good cause," he said.

The run itself is in its 12th year and is sponsored by the non-profit Breakthrough Corp., created by parents to help adults with autism lead productive lives.

This group provides a wide-range of services, including family support and training opportunities.

The race begins at 8:30 a.m. and will wind through The Cove at Turkey Creek, a portion of Knoxville Greenway, and Herron Road before concluding back in Regal parking lot.

This year's goal is $5,000, according to information provided through https://runsignup.com/Race/TN/Knoxville/BreakthroughRunforAutism.

There, prospective runners can sign up, and donors can pledge funding.

Recalling how it all got started between he and Cavalaris, Edmonds said, "He asked the

staff 'who wants to run?' I didn't want to name myself [as one] because all my running times are so embarrassing.

"Well, it ended up being me, him and his track kids," the FMS principal added.

"And (Cavalaris) ended up getting sick and didn't even run."

Edmonds said his time was around "28-ish (minutes)."

However, with Cavalaris being a long-established runner, Edmonds directed a bit of playful smack-talk the coach's way, and said he "was not eligible for the contest.

"He's the machine — he's an animal," Edmonds added.

Cavalaris did not dispute the description and said, regardless, he was "still going to go out and show everybody up."

He later said his personal best time is 21.14, but he typically runs it at around 22 minutes.