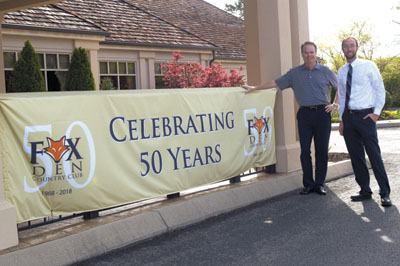 Greg Nesbitt, left, Fox Den Country Club general manager, and Tommy Hart, assistant general manager, are leading celebrations for the club's 50th anniversary. A black-tie gala will commemorate the milestone in August.

Before Farragut was a town, Chester Massey had a vision to build Fox Den Country Club and golf course in what was then Concord.

And just as Kevin Costner's character discovered in "Field of Dreams," Massey discovered "if you build it, they will come."

This year, Fox Den Country Club celebrates its 50th anniversary, and its staff and members are geared up for celebrations throughout 2018.

"It's been a great, long ride," said Terry Finnell, who joined Fox Den when the club was being built.

"I've enjoyed (the club) immensely," said Dr. Bill Battle, who joined the club 48 years ago. "I joined just to play golf, and I still do. Three or four of us old-timers go out and play."

"I think the club has been blessed to have a lot of great leaders over the years — a lot of great board of directors who had a lot of vision," said Greg Nesbitt, Fox Den's current general manager.

What makes the country club stand out, he observed, is its family atmosphere.

"I see it as one big family," he said.

Tommy Hart, Fox Den assistant general manager, has been with the club 21 years. He heads an anniversary committee, which is organizing celebratory events.

"What (the 50th anniversary committee) did is it pulled some different age group members into the committee, and they are helping with some branding ideas," Hart said. For example, the committee created logos for shirts, golf towels and cups.

The committee also is incorporating the celebration into upcoming special events, such as Mother's Day, the Knoxville Open and Member-Guest events.

"They all are going to be geared to the 50th anniversary," Hart said. "We're not changing all the events; we're just putting those little undertones in it … so we can celebrate all year long."

However, the committee is planning a black-tie celebration gala for Aug. 25 at the club.

"We will have a band, heavy hors d'oeuvres and lots of cocktails," Hart said. "It's going to be a great event. We hope to have as many members (attend) as we can."

Nesbitt originally joined the staff in 1989 as head golf professional and stayed until 1997. He returned to Fox Den in January 2017 as general manager.

"The club was founded by Chester Massey in 1968 with a vision to create it as more of an athletic-type club, which included golf, tennis, swimming and horseback riding," Nesbitt said, adding the golf course opened in 1969.

"Back then, there was plenty of land … and he stumbled upon this (property)," Nesbitt added.

Battle and Finnell remember the area in the late 1960s and early 1970s.

"There wasn't a town at all," Finnell said. "We had to go to the A&P (near where Costco now is) for groceries."

The club originally started with 200 associate members but now has 634, Nesbitt said.

Battle, who joined in 1971, remembers the club's early beginnings.

"I got there just at the time they opened the (original) club house," he said.

Nesbitt said he thinks Massey would be surprised to see "we occupy a 34,000-square-foot club house, as well, which serves as a main gathering place for member dining, hospitality and socializing."

Through the years, members and staff have seen both the community and the club evolve.

For example, as properties gave way to housing developments, Massey's hopes for providing horseback riding had faded.

However, Nesbitt said what he has seen change the most over the years is the number of young families who have joined.

"We see more and more families coming on [to the club]," he said. "It's very refreshing. It's nice to have young parents and young children out here.

"One thing that helped us grow our younger members is the board of directors came up with a junior executive membership, which afforded younger families (the ability) to join the club," Nesbitt added.

Another new amenity is the recent construction of a teaching center for golf. He said junior and long-time golfers all love the center.

"I think Mr. Massey would be pleased to see that we embraced his vision by continuing to add and improve our athletic amenities," Nesbitt said. "I think he certainly would appreciate the fact we restored the original club house, built in 1971, and turned it into a state-of-the-art fitness center.

"We have reversed course and stayed pretty true to his vision," he added.