Mahar, Skinner among survivors honored, victims mourned at 1st fundraiser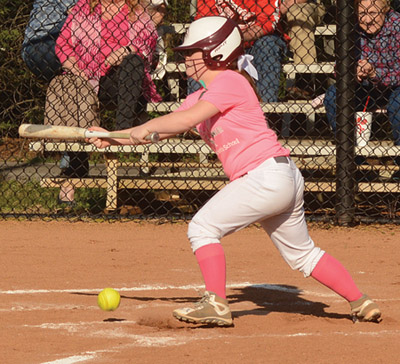 Cancer survivor Kylie Mahar, CCS sophomore second baseman, tries to bunt for a base hit versus Webb.

KNOXVILLE — A former victim of leukemia as a small child, now several years in remission while a teenage student-athlete at Concord Christian School, and a Webb School of Knoxville student-athlete who has lost several family members to cancer, were two reasons for inaugural StrikeOut Cancer Game.

Webb softball hosted this fundraiser, which was inspired by Lady Spartans head coach Dodie Montgomery, as her team entertained the CCS Lady Lions Thursday afternoon, April 12.

While Concord Christian won this Division II District 1A game 13-3 in five innings — only the second victory in program history — both teams celebrated triumphs against cancer, which included Webb assistant coach Susie Skinner (wife of Ralph Skinner, Farragut Baseball's "Voice of the Admirals"). She is seven years in remission from breast cancer.

The disease has brought Montgomery heartbreak within the past year. "My sister, Annie Counts, passed in August from ovarian cancer," she said.

As for inspiration for the special fundraiser, "I had always seen this in the National Fastpitch Coaches Association, something they do at other schools and colleges," she said.

"I felt really driven this year, especially with the loss of my sister, that I felt the need of getting out cancer awareness to raise funds to help others who may be batting this horrible disease," Montgomery added, "and to honor those who have survived and those who may struggle every day.

"We'll do it every year."

As for scheduling CCS for this special game, "We were made aware that one of their players is a leukemia survivor," Montgomery said about sophomore Kylie Mahar dealing with acute lymphocytic leukemia as a small child. "She was diagnosed at age 3 and has been in remission since age 7."

While both teams wore pink jerseys, Lady Lions players paid tribute to their cancer-surviving second baseman, with each wearing her No. 20. "It's pretty cool — they're awesome," Mahar said about her teammates.

"I think it's pretty cool that we did a game to get fundraising for cancer," she added. "I was really impressed with how many people showed up."

"We wanted to do this for her because she's our favorite, she's awesome and she's a really strong girl," said Alie Tucker, CCS third baseman.

"We're really proud of Kylie and how far she's come," Ashley Penland, shortstop, said.

"We wanted to support Kylie for all she's been through," said Maddi Mee, the game's winning pitcher.

"She's a survivor and we're super proud of her — and she played awesome today," Lady Lions head coach Tommy Bryant said.

An emotional moment was part of a post-game Webb huddle, where a Lady Spartan player told of "losing many family members to cancer," Montgomery said. "And through them she has known other (victims) of cancer.

"This game meant more to her than just winning and losing," she added. "The teams weren't just playing for themselves, they were playing for a bigger cause."

While CCS improved its record to 2-7, Webb fell to 1-5.