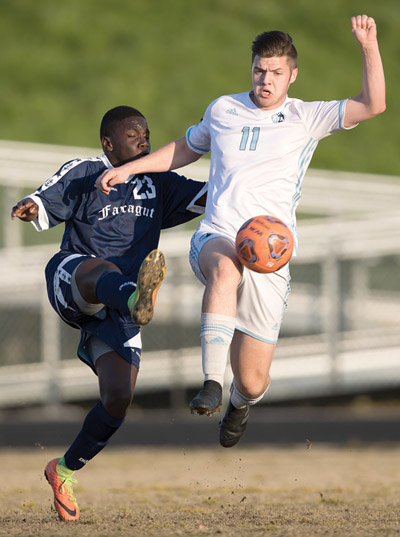 Timi Omitaomu of Farragut (23) reaches to make contact with the ball as Adam Grigsby, Hardin Valley Academy senior forward, leaps in the air to control possession.

HARDIN VALLEY — Farragut High School boys soccer head coach Ray Dover and Ads senior forward Rivaldo Hill couldn't hide their frustration after a 0-0 (nil-nil) draw at Hardin Valley Academy Thursday, April 12.

"It's the same thing every time that we play on this field. You can't play a passing game on this pitch," Dover said after both teams squandered a chance to position themselves for a shot at winning the outright District 4-AAA regular-season championship. "The ball is always bouncing. And I know as a fan that this not pretty soccer."

"This is really frustrating," said Hill, who missed on several scoring chances in the waning moments. "I missed those shots and I'll take the blame for that because it was my fault."

With both teams missing a handful of key players, Farragut stood at 6-5-1 overall, 2-0-1 in District 4-AAA, while the Hawks were 3-4-5, 3-0-1, after the match.

Hawks sophomore goalkeeper Demonte Foster stopped six quality scoring chances the Ads were able to manufacture.

"I'm really proud of our keeper [Foster]," HVA head coach Nick Bradford said. "He's a JV player.

"He did a great job because you're not going to go quietly into the night if you're making your first varsity start against Farragut."

Hardin Valley's Angel Garcia Perez manufactured most of his team's scoring opportunities.

"We had our chances," Perez said. "I had mine and I wish we could've scored.

However, "This was a great, tough game," he added.