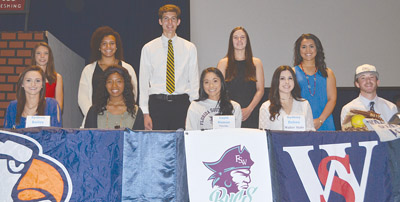 Ten Hardin Valley Academy athletes signed National Letters of Intent for collegiate student/athletes during a ceremony Wednesday, morning, April 11, in the school's auditorium. Front row, from left, are Lainee Griffin, Sydney Bailey, Kayla Domon, Sydney Dukes and Brock Umberger. Back row, from left, are Madison Grimm, Kenya Sloan, Kenton Bachmann, Lizzy Davis and Paige Gentry.

Ten Hardin Valley Academy athletes signed National Letters of Intent during a ceremony Wednesday, April 11, in HVA auditorium.

Lizzie Davis will join both the track and women's basketball programs at Lynchburg College in Virginia, where she will perform for the Lady Hornets.

Among her honors were state indoor track and field awards this school year in the high jump and as a leg on the Lady Hawks' distance medley relay team.

During the 2017-18 basketball season as a guard, Davis became the second all-time leading scorer in program history, while earning All-District 4-AAA honors.

Paige Gentry will play basketball for Roane State Community College's Lady Raiders. She also earned All-District 4-AAA honors as a senior guard.

Kenya Sloan, four-time TSSAA state wrestling championship who went undefeated during her career, chose Campbellsville University in Kentucky. Sloan also captured the USA Women's Wrestling championship in her weight class in Oklahoma, competing against hundreds from across the nation.

"Kenya is the hardest working athlete (I have seen) in my career," said HVA wrestling head coach Marc Giles. "She has made a huge impact on women's wrestling, and I know she will go on to do great things."

"I know [Kenya] will make a huge impact for our team," said Campbellsville assistant wrestling coach Nicole Tyson, who attended the ceremony.

Both Sydney Dukes and Kayla Domon will play college softball: Dukes for Walters State Community College and Domon at Florida Southwestern State College.

Whitney Hickam-Cruze, HVA softball head coach, said Dukes "excels on the field and in the classroom."

The coach said Domon "is one of the fastest ballplayers I've ever had."

Madison Grimm signed with Arkansas State University in track and cross-country. Her head coach, Bryan Brown, said she excelled in both indoor and outdoor track, and has been named All-State six times.

Kenton Bachmann, who has set six school records, also will pursuing track and cross-country next year at Wake Forest University.

Baseball standout Brock Umberger signed with Lincoln Memorial University, "a great baseball program," HVA baseball head coach Joe Michalski said.

The Carson-Newman Eagles will gain top soccer players in Sydney Bailey and Lainee Griffin.

Though Griffin missed her entire senior season thanks to a concussion, "She still showed up, and it was a testament to someone who stayed committed to the team," HVA soccer head coach Nick Bradford said.