Hardin Valley resident's 2-year effort culminates in 'The Play' starting April 20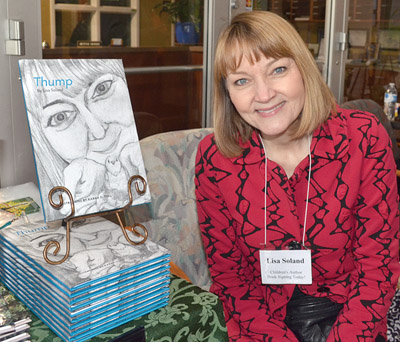 Lisa Soland is a prolific author, having written the upcoming "Sergeant York: The Play" which opens this week West Park Baptist Church's CedarBrook Outreach in the HUB Student Center. She also has written more than 80 additional plays, and a children's book, "Somebunny Loves You," which she shared Saturday, April 7, at Town of Farragut's Book Fest.

Almost exactly 100 years after Sergeant Alvin C. York became an international World War I hero and legend, a Hardin Valley actress, director and playwright is bringing his story to life on a Knox County stage.

Lisa Soland worked more than two years on "Sergeant York: The Play," which begins a six-week run at 7:30 p.m., Friday, April 20, at West Park Baptist Church HUB Student Center, 8833 Middlebrook Pike.

The production stars Greg Helton, who not only plays the title role but also portrays all other characters in the play.

It is based on the true story of York's life, which began in rural north-central Tennessee, near Jamestown, where he was one of 11 children born to William and Mary Elizabeth York near Pall Mall.

He went on to dedicate his life to Christ following a dramatic spiritual conversion and was drafted into the U.S. Army during World War I. He identified as a conscience objector, yet prayer and encouragement from a superior officer led him to battle, where he single-handedly killed 28 German soldiers and facilitated the capture of 132 others.

But it was York's work after the war that left a legacy for children in Fentress County, as he founded York Institute, which continues to educate children today.

"He was most proud of what he did after the war," said Soland, who researched York and his life extensively before writing the play.

She visited Pall Mall, and over time, got to know York's descendants, many of whom carry on his legacy today through the Sgt. York Patriotic Foundation.

Getting to know York's family and learning about him through his children and grandchildren enabled Soland to get to know Alvin York.

She also was able to read his own personal written recollections and said "about 70 percent (of the dialogue) is in his own words."

The theme of York's life was very clear to Soland early on and revolved around his faith in Jesus.

"Once you get to know the Lord, your life is forever changed," she said. "That is what Alvin's life is all about."

That theme also applies to Soland, who actually began her professional career as an actress, and studied with Charles Nelson Riley at the Burt Reynolds Theater when she was pursuing a master's degree from Florida State University.

She received many accolades for her work, which took her to Los Angeles in the late 1980s. Reynolds himself praised her acting during a play rehearsal, telling her "you got it," and compared her with Sally Field.

However, she found her true calling as a playwright with Riley's encouragement, writing and starring in her first play in 1993 opposite actor Richard Hatch of "Battlestar Galactica."

"As it evolved, I wrote myself out of a job," she said without a hint of sorrow, adding it was God's calling that led to her current vocation.

That calling certainly made York's life a compelling subject.

"(The play) is all about that concept that you can change your life; and if you can do that, you can change the world," Soland said.

"When you really follow God's lead, you can make a difference. Alvin did, and I want everyone who leaves that play to think that they can make a difference too."

The play is presented free of charge, thanks to a Tennessee Arts Commission Grant, and matching funds from the CedarBrook Outreach ministry of West Park Baptist Church.

The Sgt. York Patriotic Foundation also supported the play by providing key artifacts, including a York family rifle.

The West Park run concludes Memorial Day, Monday, May 28.

Performances will begin at 7:30 p.m. every Thursday, Friday and Saturday; 2 p.m. each Saturday; and offer a special presentation beginning at 7:30 p.m., on Memorial Day.

The play will begin its nationwide tour after Memorial Day to all organizations wanting the inspirational play performed in their venues, including Ben Atchley Veteran's Home in Knoxville.

Soland said York's family has seen a reading of the play and was enthusiastic about its portrayal of the family's famed patriarch.

"'Sergeant York: The Play' is wonderful," said York's great-granddaughter, Deborah York, who also is executive director of The Sgt. York Patriotic Foundation.

"Playwright Lisa Soland has really captured the heart and soul of what my great-grandfather, Alvin York, was all about. ... This play captures Sgt. York's loyalty to God and country and his service to the community," she added.

Soland said many members of the York family are planning to attend this week's opening.

For more information or to reserve tickets, visit www.westparkbaptist.org.