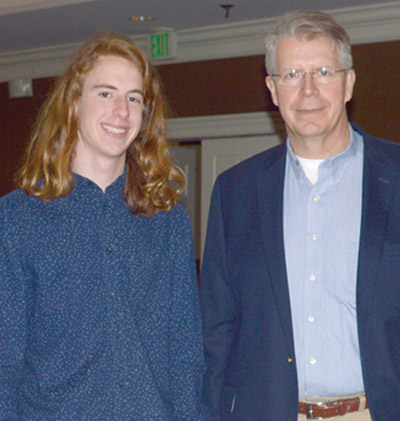 Daniel Zetterberg, left, a Farragut High School junior, joins his father, Jon Zetterberg, at Rotary Club of Farragut's meeting in Fox Den Country Club Wednesday, April 4, to discuss Daniel's Rotary Exchange trip to Germany this summer.

Farragut High School junior Daniel Zetterberg has been taking German classes for four years, but this summer he will have a chance to find out how much he has mastered.

Zetterberg will travel to Germany as part of Rotary Club's short-term exchange program, sponsored by Rotary Club of Farragut, Bill Nichols, Rotary District outbound Rotary Youth Exchange chairman, announced during RCF's meeting in Fox Den Country Club Wednesday, April 4.

Zetterberg, 17, son of Jon and Patty Zetterberg, learned about the opportunity through his German class.

"There was a flyer about this Rotary program, and one of my friends, Leoni Kunz, did the long-term exchange so I heard about (the exchange program) through her," he said. "She's in Germany right now."

Zetterberg called Nichols last November and since then he has been working with Nichols to fill out the application.

"There was a lot of information (to provide) about me to see where I would go and what was the best fit for me in Germany," Zetterberg said.

He particularly hopes to go to the southern part of the country.

"From what I've heard, (the host family( lives in the Alps, so hopefully we can go hiking, camping, things like that and live with (the German host family's son)," Zetterberg said.

"I think it will be a lot of fun," said Zetterberg's dad, Jon Zetterberg. "It will be good for him to see something different. He's never been out of the country before. It will be a lot of fun comparing things."

Daniel will visit the country for 28 days, living with a family that has a son his age. When he returns home, the son of the host family will return to live with him for 28 days, Nichols said.

"I would like to see the difference between American life and German life and get better at (speaking) German," Daniel said.

"Originally, I wanted to take Spanish but the schedule didn't work out the way I wanted to so I got put in German I," he added. "I've been really happy that happened because I really like German, and I have a lot of friends in German class."

Daniel has had a taste of German food at a downtown German Fest, and has been to Farragut's Restaurant Linderhof with the German Club.

Beyond his interests in Germany, he scored a perfect 36 on his ACT and is in the final stages of becoming an Eagle Scout.

Daniel also plays keyboard in the group, Starfish Prime

He plans to attend the University of Tennessee and pursue a career in aerospace engineering.

In addition to Daniel's trip, RCF has joined five other Knox County Rotary Clubs in sponsoring Millie Powell, an Austin-East Magnet High School sophomore, who won the district award for a full-ride, year-long exchange to France.

In 2016, Nichols said RCF members became involved in a program to get the district involved in youth exchange and help a student of an underserved population.

Six Knox County clubs agreed to fund half of a grant to finance a student.

"We became involved in Project Grad, and 14 schools are involved in Project Grad," he said. "We selected Millie Powell."

Nichols said this is the first time RCF has partnered with other clubs to sponsor a student.