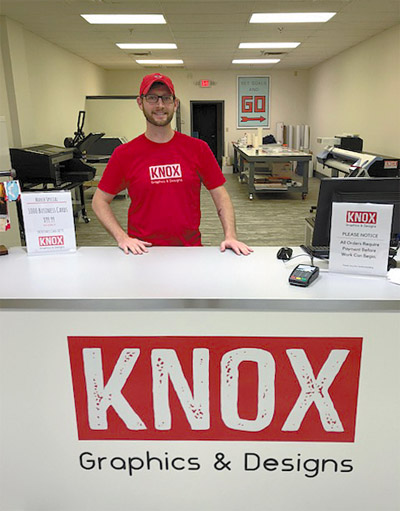 Jesse Boling has opened Knox Graphics & Designs at Stonecrest shopping center, 10965 Kingston Pike.

Jesse Boling has expanded his graphics business with the opening of Knox Graphics & Designs, a storefront operation in Stonecrest shopping center, 10965 Kingston Pike, in Farragut.

"We are a full-service print shop," Boling said. "We cater to businesses, corporate, towns, churches and individuals."

The shop, which opened Feb. 1, offers signs for businesses, campaigns, yards, real estate, raceways and menus — and acrylic and foam signs. It also provides posters, banners, window decals, vehicle wraps and graphics, marine graphics, stickers, floor and wall graphics, labels, over-sized checks, flags, tablecloths, clothing and accessories.

Additionally, Knox Graphics provides logo and Web designs, marketing materials, flyers, postcards, social media posts, wine bags, Koozies, embroidery, business and loyalty cards.

"We have a brand new direct-to-garment printer, and we can pump out T-shirts at a really great price," Boling said.

"I like to say, 'If the customer can think it, we can ink it,'" he added. "And, we are local — mom and pop — and a lot of our vendors and suppliers are here in Tennessee.

"We now also offer notary service. It is available business hours and weekends and after hours, and it offers travel notary service.

Previously, Boling had operated the graphics business out of CH Interiors and Gifts, which he owned, at 12556 Kingston Pike.

However, after four-and-a-half years, he said, "We decided to sell the retail shop and expand our signs and graphics business."

Darlene Reinke purchased CH Interiors Dec. 31, 2017.

"It took a long time to find this place," he said about the Stonecrest shopping center location. "I just happened to find this. It was a good spot, and I wanted to stay in Farragut."

Boling also is a licensed real estate agent with EXIT Real Estate Professionals Network in Farragut.

"I started working when I was 12," he recalled. "I started my first graphics business [when] I was 17 years old. I was self-taught, I had it a couple years and sold it."

"This is my third signs and graphics business, but this is the first ... that has full-service capability of handling very large jobs," Boling added.

Hours are from 8:30 a.m. to 5 p.m., Monday through Friday, and by appointment-only Saturday.

For more information, call 865-777-5669, visit www.knoxgraphicsdesigns.com or Facebook: facebook.com/knoxdesignstn.