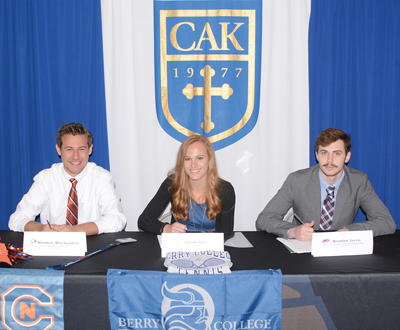 Christian Academy of Knoxville signees who inked National Letters of Intent Thurssday afternoon, April 19, in the school library are, from left, Matt Meschendorf (Carson-Newman); Allison Ivey (Berry College) and Brendan Jarvis (University of the Cumberlands.

Spring National Signing Day for Christian Academy of Knoxville was Thursday, April 19, in the high school library. A Lady Warrior and two Warriors signed National Letter of Intent papers.

Soccer goalkeeper Matt Meschendorf, son of Jim and Stacy Meschendorf, signed with Carson-Newman University, an NCAA Division II South Atlantic Conference team. In 2017, he was on the pitch 14 games recording three shutouts with a .83 percent save rate while assisting CAK in securing district and regional titles.

He has been accepted into the C-N Honors Program and will major in physics to allow him to pursue a graduate degree in nuclear engineering.

Allison Ivey, tennis star, signed with Berry College, Georgia. Ivey is salutatorian for CAK's Class of 2018, having won numerous academic honors, including the highest academic average in Advanced Placement Chemistry and Honors Spanish III.

As a freshman, Ivey teamed with Elise DeNicola to win the Class AA state doubles title. Ivey was a state finalist in singles her junior year. She also has played on the junior tournament circuit, winning several titles and sportsmanship awards, and competed in national championships two years in a row.

Brendan Jarvis, standout wrester, signed with University of the Cumberlands, Kentucky, a program finishing as NAIA national runner-up in 2018. He is a three-time state qualifier and two-time state medalist who has earned three varsity letters. Jarvis plans on majoring in education.