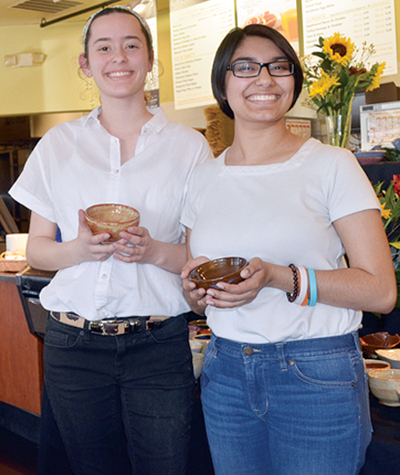 Alice Dupree, left, and Rose Trivedi, NAHS members, co-chaired this year's "Empty Bowls for the Hungry."

Area diners filled their bowls to remember the many who cannot during a recent fundraiser hosted by Farragut High School Chapter of the National Art Honor Society. "Empty Bowls for the Hungry" was held in Einstein Bros. Bagels' Campbell Station Road location April 10.

Dozens of supporters paid $15 per ticket to support FISH Food Pantry in Knoxville. In return, they received a decorative handmade bowl, a choice of soups and bread — and the knowledge their efforts were helping feed people in need here in Knox County.

One hundred percent of proceeds went directly to eradicating local hunger.

Wendie Love, FHS art teacher and NAHS sponsor, began "Empty Bowls for the Hungry" locally in 2001, and she continues to oversee the event.

The movement itself is an international one founded in the arts community, in which handmade bowls are made and donated, then used to serve a simple meal.

Diners choose their bowls to use that day, and are kept as a reminder of all the empty bowls worldwide, according to the organization's web site. Becoming aware of the movement gave Love the idea her students could follow the same blueprint.

"They start making the bowls in September," said Love, who also noted she makes many of the unique bowls herself. In the 18 years since, the FHS "Empty Bowls for the Hungry" typically has raised between $1,000 and $2,000 annually, and it has continued to be a topic near to Love's heart.

Support for Empty Bowls was so enthusiastic, organizers began offering two separate dining times last year to accommodate ticket holders.

Einstein owners Jon and Yvonne Kidder have donated their restaurant space, soup, breads and beverages since 2008, starting at their North Cedar Bluff Road location.

The Kidders became involved through their daughter, Elizabeth Hinds, a former Farragut High NAHS member.