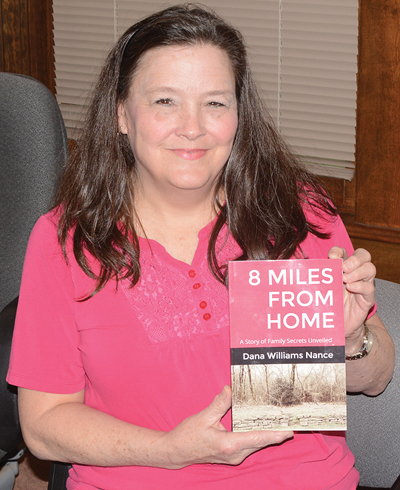 Dana Williams Nance

With a degree in advertising from the University of Tennessee, Farragut resident Dana Williams Nance said she has enjoyed writing going back to high school when "I was on the newspaper staff."

She took that interest to a new level by recently writing and publishing her first book, "8 Miles From Home," a 163-page "fictionalized account" of a real tragedy, she said.

Last year Nance got wind of an apparent abduction-turned-murder of a 13-year-old Concord girl (name withheld due to surviving family members) along Evans Road Nov. 29, 1969 — which reportedly happened eight miles from the girl's home along Virtue Road. The case remains unsolved.

A Farragut resident for 20 years who has lived along McFee Road for 12 years, Nance said she "really wanted to try and write a book" dating back a few years, she said.

"I had been prowling around the Internet one night. … I caught wind of it, and I thought, 'That's just in my back door.' I had never heard of it," she added.

"… And being married to a police sergeant (Paul Nance, Oak Ridge Police Department), I learned more and more about law enforcement and crime. I found just a snippet online about a cold case out here on Virtue Road."

Despite checking into tax records, "I can't find which house on Virtue was hers," Nance said. "But there is an empty lot two doors down from the entrance to Vista (subdivision) that has a beautiful stone wall, and that's what I ended up putting on the cover of my book.

"I took a picture of it because the wall has always intrigued me," she added. "In my head, that is where the home stood."

With Evans Road connecting Virtue and McFee roads, the real victim "apparently was leaving her house on Saturday after Thanksgiving to walk up on Evans to the Pryse Farm to work on a school project," Nance said. "And she was abducted some place in between.

"And she was found two weeks later eight miles from home, which is the name of my book, in Loudon County," she added. "Her shoe was brought by a dog to his owner."

Digging around for more information, "I couldn't find a ton. I found some old newspaper articles about it," Nance said.

However, "I found myself hesitant to make a true book about somebody else's tragedy," she added. "I didn't want to bother the family.

"A lot of the characters in the book relate to my life and the people I know."

Unlike the real tragedy, "I solve the case" of the fictionalized 13-year old victim.

While saying she starting writing the book in late 2017, "I was really amazed how smoothly it went together for me," she said.

It took her "about four months" to complete the book, adding sales into early April were "39 print books and 13 e-books in a week-and-a-half," she said, adding with a laugh, "I've made a whole $100.

"I've had a real positive response from people who have read it."

In effect, Nance "self-published" her book — and wants to spread the word how easy it is to "self-publish."

"It's through Kindle Direct Publishing," she said. "I was amazed: you get your manuscript, you go on there … it tells you how to submit your manuscript, it's got software you click on to show you how. It gives you ideas for your covers. … It gives you pointers."

After the site "accepts" your manuscript and cover choice, "you get your royalty plan," she added. "… And then it pops it onto Amazon.

In addition to being "really easy," Nance said all costs come out of sales.

To get copies of her book, go to amazon.com/.