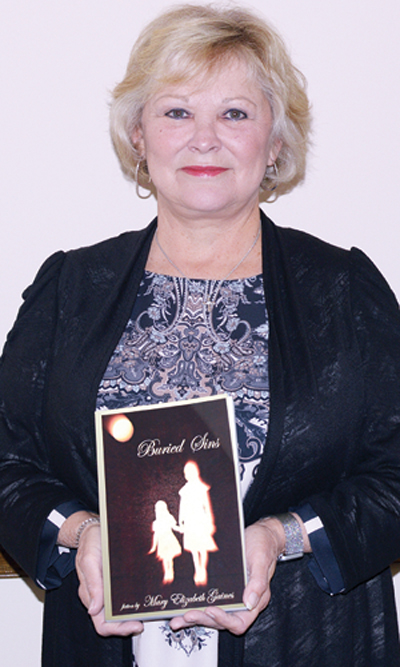 Knox County resident Mary Gaines has published her first book, "Buried Sins," and is working on her second.

Knox County resident Mary Elizabeth Gaines' first book, "Buried Sins," was published earlier this year. "Buried Sins," self-published by IngramSpark in mid-February, is available in e-Book and hardbound forms.

"All the Amazon reviews I have received so far have been five star, and I am just amazed," said Gaines, a resident of Andover Court subdivision just off Westland Drive, who already is in the middle of working on her second book.

"I have gotten lots of feedback so far," she added.

Gaines has a website, marygainsbooks.com/, and a Facebook group page with about 450 members.

"The feedback (on the Facebook group page) has been phenomenal," she said. "I have been so blessed.

"Many said they couldn't wait (to read the book), so they got (an eBook) and they still want an autographed copy."

The book is set in the 1950s, when Gaines was growing up in her hometown of Shelbyville.

"I think, when I started toying with the idea of writing, I was reminiscing with my sister," she said. "We got deep into a conversation about our childhood memories and that's what made me decide that maybe I should put these memories down so my family — my children, my grandchildren — would be able to go back and revisit someday.

"(The book) really started out to be — almost — a childhood memoir," she said. But as it took off, the story took another turn.

"I don't exactly know why I veered off (from the original memoir format)," she said. "It turned into this mystery that, eventually, is solved, but there still are parts that are hanging on.

"I tried to weave into (my) memories a story within a story that has to do with the family I'm focusing on, but then events in the town, which turned out to be a string of child kidnappings," Gaines said.

While the book is fiction, she said there are characters based on real members of her family; but she added, "These are not things my family did. That was my imagination going wild."

A business writer in her career, penning "Buried Sins" gave Gaines the opportunity to try creative writing.

"I've always been a professional business writer all of my career," she said. "I've always written things that were policy procedures, presentations, white papers or business correspondence.

"I've never really been able to do (creative) writing, so I thought (this book) would be a nice change, and it actually turned out to be very rewarding," Gaines said.

She began her career as a legal secretary.

"I went to (University of Tennessee) and came out with a job as a procedure writer and assistant to the tax accountant at Union Carbide, which became Martin Marietta a few months after I was hired on," she said.

The second book now in progress, she said, "has to do with a couple that loses a baby to [Sudden Infant Death Syndrome], but there's a kidnapped baby who eventually lands in [the couple's] lap. It's an identity swap.

"But, it [also] has influences from a crime family; it has murder; it has all those kind of things," she added.

The e-Books and hardbound books of "Buried Sins" are available from Amazon and Barnes and Noble.

"Apple is supposed to have it as well," she said.

Printed, autographed copies also are available by going to her website.