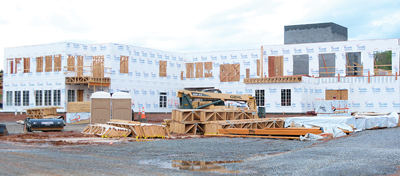 Construction status of Villages of Farragut, Phase 1, as of Monday, April 23. Completion of Phase 1 and its opening to residents is expected sometime in early 2019.

Walls are going up at The Villages of Farragut Senior Living off Smith Road.

"The status of it is we're framing, and we're still looking at right after the first of the year (2019) completion and opening of the first phase," said Gary Keckley, CEO and director of development with GoodWorks Unlimited, LLC., which is developing Villages of Farragut.

"Other than we just had the wettest February in the history of Farragut, things are going very, very well," he said about finishing Phase 1. "I will say I have enjoyed working with the Town of Farragut on it. It's been an amazing project so far."

The senior living community, which sits on 23 acres, is situated adjacent to Farragut Church of Christ off Smith Road, and is being built in three phases, which offer a variety of housing and service options for senior adults.

Keckley said the first phase, which encompasses 103,000 square feet, will have 82 units with living suites ranging from alcoves — 377 square feet — to large two-bedroom units, with each more than 1,300 square feet.

While the first phase of the development is age-targeted, developed and operated for senior citizens, he added, "Really, anyone [may live in the first phase]. There is no age restriction per se.

"We call these concierge units What we do is, by industry classification, it's independent living with supportive services, and the supportive services include assisted living."

Amenities include dining services, along with three restaurants, an enrichment program, maintenance and housekeeping.

It also offers a community room for events, clubroom with a billiard table and bar, a private dining room for special occasions, a beauty/barber shop and an in-house pharmacy.

"We'll have our own nurse practitioner," Keckley said. "We'll have a wellness area for fitness and personal care for folks who need help with things like dressing and eating."

The development also will provide an emergency call system and vehicles to "take folks where they need to go," and "the best-ever staff in the world," he said.

For more information about The Villages of Farragut, call 865-671-2500. "(The phone number) is staffed, so they are responding to folks that way, following up with folks and keeping them up to date," Keckley said.

More information also can befound at www.thevillagesfarragut.com/.