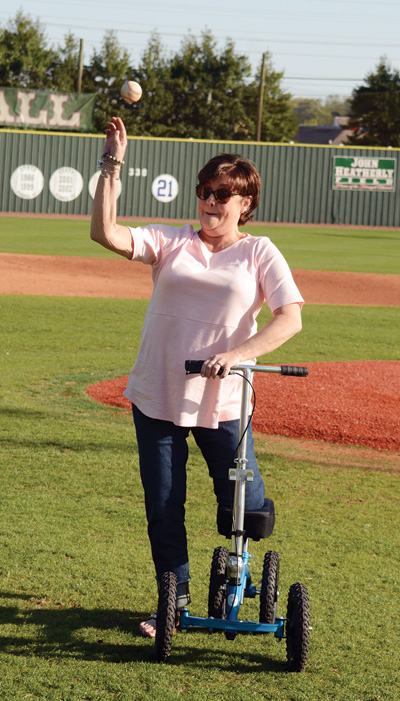 Vanessa Lovelace, a breast cancer survivor, throws out the first pitch.

Rarely does an evening at the ballpark celebrate winning more than what Farragut High School baseball enjoyed Friday, April 27, at FHS's John Heatherly Field.

It was a 30th annual celebration of the program's 1988 Class AAA state runner-up finish, led by then head coach John Heatherly — indeed the baseball field's namesake and a Tennessee Baseball Coaches Association Hall of Fame member. Also recognized, despite being unable to attend, was Herky Payne, 89, the team's assistant coach.

With a 12-3 victory against archrival Bearden, the program celebrated head coach Matt Buckner's 500th career coaching victory (at FHS since 2010 with three Class AAA state titles and two runner-up finishes, plus his previous wins while head coach at Bearden. See story and photo in sports).

Most importantly, it was 2nd Annual Breast Cancer Survivor Celebration evening, highlighted by survivor Vanessa Lovelace, a highly respected program booster since the early 2000s, throwing out the first pitch to her son, FHS senior Jackson Lovelace. Among several other survivors present was Kathy Buckner, coach Buckner's mother.

Donations were accepted during the game on behalf of Susan G. Komen of East Tennessee, courtesy of Ralph Skinner, "Baseball Voice of the Admirals." His wife, Susie Skinner, also is a breast cancer survivor.