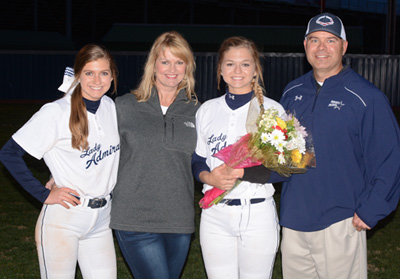 Senior Bailey Young (with flowers) alongside, from left, sister and teammate, Cameron Young, and parents, Audra and Brad Young.

Winning 14 of its first 15 District 4-AAA games, Farragut High School softball claimed the 2018 regular season championship.

"A lot of people have stepped up and had really good years," said Admirals skipper David Moore, whose team carried a 21-6 overall record into the final regular season game, at Heritage, Tuesday evening, May 1 (after deadline).

"... We've had good pitching, solid defense and very good and timely hitting all year.

"It has been a team effort."

However, Farragut came up on the short end of a 6-3 decision against Gibbs Saturday afternoon, April 27, in the BSN Region II Challenge at FHS's Bellamy Field.

The Lady Admirals split four games as they defeated Ooltewah and Tazewell (Virginia), while also losing to The Kings Academy 7-0. Both the Lady Lions and Gibbs are defending state champions. King's won the Division II-A state title while Gibbs claimed the Class AAA crown.

"They're good teams and there's no doubt about it," Moore said after a fifth-inning comeback attempt came up short against Gibbs (29-6) in a game called after five due to a tournament time limit. "We came back and we kept competing. That's one thing these girls do."

Trailing 6-0 in the bottom of the final frame and with two outs, the Lady Admirals began their march on the comeback trail versus Gibbs pitcher Rayna Pendleton.

Andrea Sarhatt started the two-out rally when she legged out a bunt single. She advanced to second when Devon Weller singled. Sarhatt scored when Kelsie Tuggle got a hit.

Tuggle and Weller both came home when freshman Cameron Young doubled.

"We hit the ball hard today but we hit it at people," Moore said. "We competed and we kept battling."

However, "The game against King's was the first time all year that we really didn't compete," he added. "But then we bounced back and beat Tazewell and came back and beat a good Ooltewah team. Then, we get down 6-0 and we came back against Gibbs."

Sarhatt and Young each had two hits against the Lady Eagles.

"We played some good teams and we saw some good pitching," Sarhatt said. "We got some valuable experience and we saw the kinds of teams that we're going to have to beat if we go where we wanted to go."

"We competed better today than we did last night (against King's)," she added.