Ads skipper reaches 500 in career wins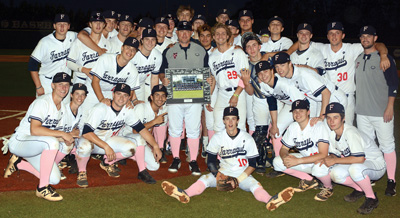 Matt Buckner, Farragut varsity baseball head coach, was presented a plaque embedded with a photo of his 2018 Admirals baseball team, with each team member signing along the top and side margins, following his 500th career coaching victory. It came Friday evening, April 27, beating rival Bearden 12-3 at FHS.

Matt Buckner struggled to control his emotions Friday night, April 27, after his Farragut High School baseball team routed rival Bearden.

It truly was a magical night, as the Ads helped their longtime head coach reach a milestone, his 500th-career win, when they thumped the Bulldogs 12-3 before a packed house at John Heatherly Field /the Ballpark at Farragut.

Wins over the Bulldogs are always special for Farragut, but this one will forever be etched in Buckner's memory.

The players playfully tackled their head coach moments after the game ended, as Buckner made a failed attempt to run away.

Making it more special for Buckner was his first head-coaching job, which came in BHS Bulldog maroon before he headed west along Kingston Pike.

"This is special and it feels really good," Buckner said after winning No. 500. "This is pretty cool and we played OK.

"I've coached at both schools and they're two great schools."

Buckner guided Bearden to the Class AAA State Tournament in 2009 before departing to replace his mentor, Tommy Pharr, who won five Class AAA state titles at FHS before taking over at Christian Academy of Knoxville.

Buckner, a catcher for Pharr at Monterey High School (Class of 1996), picked up where his mentor left off at FHS — guiding the Admirals to Class AAA state championships in 2010, 2011 and 2014 and a pair of runner-up finishes in Murfreesboro (2013, 2015).

Pharr, who made an appearance at Friday's game, has won two titles at CAK (2014, 2016).

"This was really special because Tommy was here and my mom's here," Buckner said. "Tommy's my guy. He means a lot to me and he means a lot to a lot of people.

"(Bearden head coach) John Rice is one of my best friends."

Bulldogs assistant Buddy Wilker coached under Buckner.

"He's a great guy and he's a great coach," Wilker said. "He's a good friend and when he was at Bearden, we were both getting started in coaching.

"He's gets the most out of all of his players. You can tell that."

Farragut senior Brad Grenkoski agreed. "I love that guy," he said. "We've had our ups and downs. He's a great coach.

"This is a special moment for all of us and there's not a better guy that this could happen to."

"This was a special night," Rice said. "You had the (breast) cancer survivors, and you had their 1988 team (Class AAA state runner-up) here. (See West Side Faces, page 8B). Then, Buck gets No. 500 and that's great for him."

Buckner's 501st victory was a 12-2 drubbing of Gibbs Saturday, April 28, in a rescheduled Turn Back the Clock Game at FHS.