Stuhl publishes first book in 'Sandman' series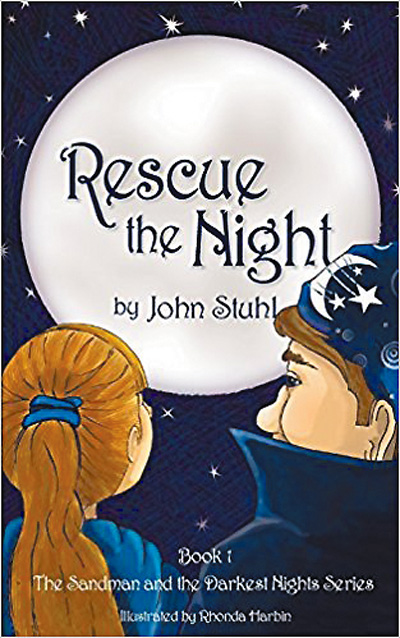 What began as a unique Christmas gift for a Farragut resident's family members and friends has become a year-round present for countless readers of engaging fiction.

John Stuhl, counseling psychologist and husband of Farragut Parks and Leisure director Sue Stuhl, has published his first book, "Rescue the Night," which originally came about when friends suggested exchanging handmade Christmas gifts about five years ago.

"I am not very crafty, so I wrote a book," he explained.

The story came fairly easy to Stuhl, who based the main characters on daughters Jessie and Ali, and their friends' daughter, Caitlin. He further made it a family affair by using the names of the family's dogs for additional story characters.

His intended audience was so pleased with that first book, Stuhl repeated the feat over the next four years, spinning more tales based on the same ensemble.

Stuhl said he always has enjoyed writing but never seriously considered it as much more than a hobby, especially with his full-time patient schedule. However, over those five years of crafting the stories, he said he "built up a little confidence and started entertaining the idea of publishing them.

"I told [Sue] they were simple stories, but she said, 'there is nothing wrong with a simple story.' She feels better about my writing than I do."

With that encouragement and support from his family behind him, he began pursuing that option, first by finding an editor in Cathy Kodra and then by securing the talents of local artist Rhonda Harbin to provide the illustrations.

He said he then spent about a year before taking the next step of self-publishing, which Stuhl decided to do instead of "going [into] the nebulous black hole of sending [works] to publishing companies and agents" and just waiting for responses.

"Rescue the Night" was printed in January as the first of the planned five-part "The Sandman and the Darkest Nights" series.

He described the book as being one "for adults, as well as for kids, and it is a great book to read to younger kids, especially since the messages have multiple levels."

The book is available at www.johnstuhl.com, Amazon and at Barnes and Noble, and Stuhl said he has had "a lot of really nice feedback" so far, including eight positive reviews on Amazon alone.

He has promoted the book in a variety of ways, more recently at the Town of Farragut Book Fest and at a book signing at First Presbyterian Church in Oak Ridge last month.

He also is planning to attend the Knox County Children's Festival of Reading Saturday, May 19 at World's Fair Park.

Fans won't have to wait long for the next installment — since the books are already completed, the next volume is set for an October release.