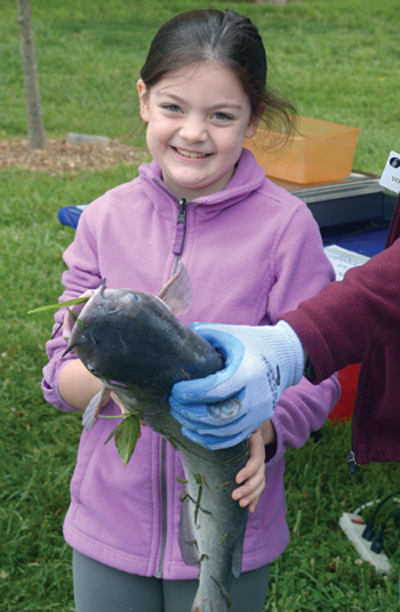 Raegan Boertje, 8, caught the biggest fish, which weighed in at 4 ½ pounds, at the 33rd Annual Bob Watt Youth Fishing Rodeo at Anchor Park in Farragut Saturday, May 13, 2017. She was one of 143 children, from ages 2 to 13, who fished in the rodeo. Holding the fish for Raegan was Dave Suter, who helped weigh fish at the event.

Budding fishermen will have their chance to catch "the big one" on Saturday, May 12, at Anchor Park during the 34th annual Bob Watt Fishing Rodeo.

Sponsored by the Town of Farragut, the event is free and open to youngsters aged 12 and younger.

On-site registration begins at 9 a.m. at the park, located at 11730 Turkey Creek Road and fishing will follow from 9:30 to 11 a.m.

The first 150 children who register will receive a free T-shirt.

Event will be held rain or shine according to organizers.

Prizes will be given in a variety of categories, and in years past, have included honoring youngsters who have caught the largest fish and those who have caught the highest number of fish.

Tennessee Wildlife Resources Agency will be fully-stocking the lake, and the Town provides bait and a limited number of fishing poles, the latter of which will be distributed on a first-come, first served basis.

Organizers are still accepting community donations for the event, which includes youth and adult spincast (push button) rod-and-reel combos in good working condition, along with lines, hooks, bobbers and sinkers, the press release stated.

The event itself began in 1985 under the direction of the late Bob Watt, who served on the Town Board of Mayor and Aldermen and also was a long-time member of the Town's Parks and Recreation Committee.

For more information, visit townoffarragut.org/communityevents, call Special Event and Program coordinator Brittany Spencer at bspencer@townoffarragut.org, or call 865-218-3410.