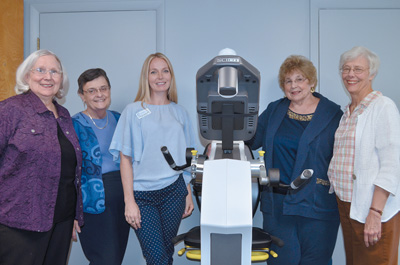 Celebrating a new exercise room and handicap-accessible equipment for Concord Adult Day Enrichment Services at a recent open house were, from left, program director Genna Minihan; CADES board member/volunteer Judy Johnson; CADES executive director Celia Gruzalski; CADES Board chairman and volunteer Debbie Thompson; and CADES board member Janie Wendelken.

Exercise is a well-known key factor for optimum health, but a lesser-known fact is its importance for those dealing with Alzheimer's and dementia, too.

Thanks to a local grant, a

Farragut adult care program is now able to offer that option to its participants.

Concord Adult Day Enrichment Services, which serves individuals with memory loss issues, recently unveiled a new therapeutic exercise room at Concord United Methodist Church, where it has been operating more than a dozen years.

The non-profit had been working on the project since it received a $27,000 grant last fall from Trinity Health Foundation to purchase the equipment, which can service the most able-bodied of clients to those who might be more frail, CADES executive director Celia Gruzalski said.

In writing the grant, she had the blessings of the CADES governing board and outlined the necessity for providing the additional services.

"Regular exercise helps maintain physical strength, which, in turn helps alleviate the symptoms of Alzheimer's, as well as

maintaining the activity of their daily lives," she said. "It is just another [needed] component to our program."

In addition to procuring the equipment itself, CADES required additional space to house it, which was quickly provided by Concord UMC.

Volunteers, CADES staff and church members worked to help renovate the area that would become the exercise room.

"The church has been so supportive — we can't thank them enough," Gruzalski said.

Once the room was completed, they were able to situate adaptive equipment, such as a hand cycle, a seated bike, a recumbent elliptical and weighted bands.

Staff members and volunteers trained with Select Physical Therapy to learn how to use the equipment before starting participants on the new program. And, it has also been made available for their caregivers, too.

Now, just weeks into the new offering, Gruzalski said, "The response has been phenomenal. Our participants have been elated and have been so excited about the equipment [that] they ask to [go use it].

"It has already exceeded our expectations."

CADES has been serving the community for more than 12 years and currently has about 15 daily participants but about 30 total, as many come on a staggered schedule.

They are closely supervised and receive many services throughout the day, including meals and snacks, educational programs, active and passive games, music, arts and crafts, pet therapy; and intergenerational contact through the church's preschool program.

It already had been offering exercise components, but not to the degree that it can currently.

"Each participant is evaluated individually [and] a some [already] have physical therapy plans in place but don't have the equipment at home," Gruzalski said, which was another key factor in helping provide that option at CADES.

It actually was church member Janie Wendelken who was instrumental in advocating additional services for senior adults more than a dozen years ago.

"I had been working with adults at church, and as a church, we started to look at areas in which we could serve," she recalled.

She said one key area identified was help for caregivers of dementia patients.

"People my age were looking for places for their parents [to stay during the day]. At that time, there was no place close that offered [this type of] care, except for [facilities downtown and Oak Ridge]," Wendelken said.

Concord UMC stepped up to the challenge and has been offering CADES ever since.

These many years later, she noted, "We are just so proud of the program that our church has been able to provide to West Knoxville."

While helping the participants themselves is a huge part of the services offered, it also gives respite for their caregivers and "allows people to keep loved ones at home longer," Gruzalski added.

Now, this latest component is just another way to provide assistance and relief for CADES participants.

"It has been so great, and we are so thankful that we have this," Gruzalksi said.