Farragut-based HospitalCareers biggest of its kind in U.S.: Bauer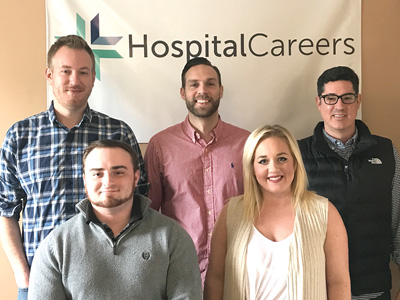 HospitalCareers.com employees, front row from left, are Ryan Bucci, content strategist, and Carla Goad, account executive. In back, from left, are Chris Owens, development; Dan Herzog, account executive; and Brian Bauer, founder/director.

HospitalCareers of Farragut "is a healthcare career site" standing apart from the competition — nationwide — according to its founder.

Despite having only four employees at its Farragut office, 116 Glenleigh Court, "We're one of the largest, if not the largest, hospital job-based career sites (www.hospitalcareers.com) in the country," said Brian Bauer, founder/director.

Moreover, "There's really no other site (nationwide) that is specific to hospital jobs to our knowledge," he added. " … We have just a tad under 29,000 hospital-based positions across the country. That includes everything from physicians to CEOs at hospitals all the way down to dietary staff.

"Our site helps to attract the most quality healthcare professionals to the best jobs they can find at hospitals. … We work with roughly about 1,900 hospitals, clinics and systems across the country … to locate the best healthcare candidates."

"We try to market our list that we created for the top 100 best hospitals to work for," Bauer said.

That includes "The Mayo Clinic, they use our system," he said. "Job-seekers can find the positions, then apply to the hospitals that are posting the jobs on our website.

"We have a slew of content we provide to healthcare professionals to kind of guide them through their careers as well," he added.

Comparing his services to Monster.com and Careerbuilder.com, "That's what we do for the healthcare industry," he said. "We are like the Monster.com for healthcare jobs.

"We're the most niche-oriented healthcare site," Bauer added. "At Monster.com or Careerbuilder, they are sites with millions of jobs. But none of them are specific to the healthcare and hospital sector like we are."

Bauer created HospitalCareers in 2006.

"I built this by myself from the ground up," he said. "… I grew this, literally, from my house.

Reminiscing back to 2005 when he was a "marketing director for a start-up software company based in Indianapolis," Bauer said, "I always knew I wanted to start a business.

"I was sitting around the dinner table with (my wife), and she was working in a hospital environment, and I said, 'you know honey, I would really like to start a business … but I don't know what else I could do,'" he added.

"And she said, 'you know t

here's a big nursing shortage.' … And I looked into that, and

within six months is when I

started a business."

Bauer said it started "more on the agency side, working with human resource directors at several hospitals throughout the country, and helping them to develop their recruitment strategy.

"Within six months of launching that site, we had 85 percent of the entire market in the state of Minnesota," he added.

Now, "We work with 23 of the top state hospital associations in the country," Bauer said.

"… We've been in this particular location since probably 2012," he said.