Highly respected former Farragut pastor, Christian leader honored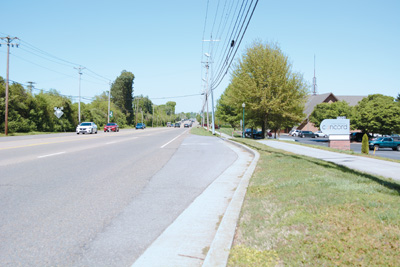 A stretch of Kingston Pike running in front of First Baptist Concord, from Bellaire Drive westward to Federal Boulevard, will be named in honor of a highly respected former Farragut pastor and Christian leader.

Designating Dr. Doug Sager Memorial Highway has been approved by Tennessee General Assembly, led by the efforts of state Rep. Jason Zachary (R-District 14, which includes Farragut). A formal dedication ceremony and sign installation date was not released at deadline.

Senior pastor at FBC from 1992 to 2013, "Brother Doug was a leader who invested in our community for over 20 years," Zachary stated in a press release. "This is a worthy honor for one of the great men of the Faith."

With the idea for a state highway honor inspired by Knox County Mayor Tim Burchett's visit to a convenience store in the hours following Dr. Sager's death Feb. 24, "Mayor Burchett and I worked together on the idea," Zachary further stated in the release. "And Knox County will be partnering with the state by providing the signs that will be placed on Kingston Pike."

"I was just glad to be a small part of it," Burchett said. "When I was in the (state) legislature, sometimes we would honor people by naming roads after them.

"I just had an idea and made a couple of phone calls," he added. "I was pumping gas at the Northshore Pilot" when seeing "Newsbreak Knoxville" on the pump video about Dr. Sager's death, "and it just kind of popped into my head."

With Kingston Pike a state route, and a large portion of it in Zachary's district, "I just thought it would be a good gesture and I just mentioned something to Jason about it," the mayor said. "He did all the heavy lifting.

"He had about a day to get it all done, and I called some friends of mine in the state Senate — I spent 12 years there — and they were glad to help facilitate it," Burchett added.

Both men were part of a "Celebration of Life" service Sunday morning, April 29, at Dr. Sager's final place of leadership — as senior pastor of Vonore Baptist Church in Monroe County.

That's where Zachary made the highway announcement, with Doug's widow, Faye Sager, in attendance.

"Actually Doug helped me with some legislation," which ended with passage "of some of the toughest anti-child molester legislation in the country," Burchett said.

Helping Burchett drum up support by holding a community symposium at FBC, "He prayed about it, prayed over it, and he decided we were going to do something about it," the mayor said.

The symposium "was a major production, he never did anything halfway," he added about Dr. Sager.