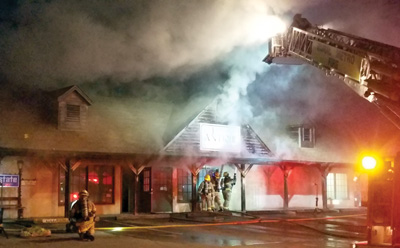 Station West shopping center, which fronts Campbell Station Road and is slated for demolition in the coming weeks, was damaged by fire Sunday night, April 29.

Just weeks before it was scheduled for demolition, Station West shopping center caught fire Sunday night, April 29.

Rural/Metro responded to the business, 620 Campbell Station Road, at 9:55 p.m., according to Jeffrey Bagwell, Rural/Metro Public Information officer.

Initial reports indicate the fire likely was electrical in nature.

"Initial crews from Station 41 arrived within minutes to find heavy smoke coming from the roof area," Bagwell said.

It was the first of a total of six engine companies that responded to the scene, as did a ladder tower company, two ambulances and a rescue company.

Firefighters were "challenged" in accessing the roof and attic area of the building, where the fire seemed to be located, he added, and also noted that unidentified workers were already on site helping to move current tenants at the time of the initial call..

One firefighter suffered minor injuries and was transported to a nearby hospital, where Bagwell said he was treated and released.

"After about a week of recovery time, he should be back to work," he added.