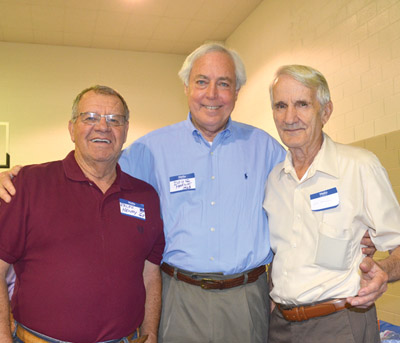 Ralph Henry, left, and Doug Horne, center, both 1963 graduates, with John Marius, Class of '54

Saturday, May 5 was "Grand" in every sense of the word at Virtue Cumberland Presbyterian Church, when more than 50 former Farragut High School classmates met for the group's annual "Grand Reunion."

Former students who attended the "old" high school, located at the corner of Concord Road and Kingston Pike, reminisced during the group's annual get-together, remembering the days before the "new" high school opened just down the road in 1976.

Charlie Hall, Class of '49, was among the oldest FHS graduates attending, while Christy Thomas, Class of '76, was the only known member from that last graduating class at Saturday's reunion.

For more photos from this event, please see Westside Faces in our print edition.