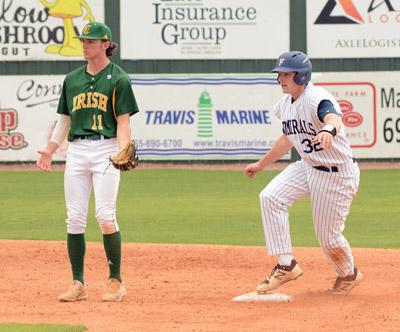 Farragut's Paul Komistek slides safely into second base, alongside Knoxville Catholic shortstop Ryan MacDonald, in this District 4-AAA tourney second-round game at FHS's John Heatherly Field/The Ballpark at Farragut Saturday afternoon, May 5. Despite connecting for just three hits, the Ads won 4-2.

Paul Komistek couldn't have picked a better time to hit his first home run in a Farragut High School uniform.

Komistek, a senior right fielder who transferred from Knoxville Christian School for his final high school season, clubbed a two-run shot in the bottom of the sixth inning that put the Admirals ahead for good in their 8-4 victory over Heritage.

It was a winner's bracket victory in the District 4-AAA Tournament Monday night, May 7, at FHS's John Heatherly Field/The Ballpark in Farragut.

Komistek's shot gave Farragut (31-7) a 6-4 advantage, sealing a win enabling the Admirals to reach next week's Region 2-AAA tourney. It wouldn't be the last round-tripper of the frame.

The late outburst thrilled FHS head coach Matt Buckner and Komistek's teammates, who rushed to greet the senior as he crossed home plate.

"That's the first home run that he's ever hit here at Farragut," Buckner said. "He's got power. I guess he's just had some bad luck.

"We have good players and they got some good swings."

"I was just looking to hit something into the gap," said Komistek, a University of Tennessee signee. "I just got it in a spot and I hit it out of here."

Komistek hit the second of three Farragut homers in the inning. The Admirals got their power surge just in time to save some pitching for FHS, which entered the inning facing a 4-3 deficit against the third-seeded Mountaineers (19-12).

And Farragut wasn't having much luck against Heritage relief pitcher Tate Daniels, who entered the contest after in the bottom of the second after the Admirals chased starter Jake Kerr after he surrendered three runs.

Daniels opened the sixth and caught Farragut pinch hitter Alec Nussbaum looking. Nussbaum was the sixth consecutive Admiral retired by Daniels and things were looking grim for the District 4-AAA regular-season champion.

"Give credit to [the Mountaineers]," Buckner said. "They played well and [Daniels] really threw a great game for them."

But Farragut tied the game when shortstop Ashton King hit a solo shot to knot the game 4-4.

Parker Noland was then retired for the second out of the inning before Jerry Hammons, another KCS transfer, drew a walk. He was lifted for pinch runner Jake Evans, who scored ahead of Komistek, on the go-ahead homer.

Komistek is one of the area's hottest hitters as he has amassed 20 hits in his last 12 games.

Farragut notched a comeback, but the Admirals were far from finished.

After the Ads took the lead, senior first baseman Cade Burkey walked before Brad Grenkoski hit his sixth homer of the 2018 campaign.

"I thought Tate really threw well. But he made that mistake and he left that ball up (to Komistek)," Heritage head coach Robbie Bennett said. "I think he might've gotten a little tired.

"That's a good team over there and I knew they weren't going to quit when we were up by one in the sixth. I'm proud of our kids. I'm proud of them because they just kept battling and battling and battling."

Farragut was ahead at game's end and the Admirals got off to a fast start. King singled to open the bottom of the first. He took second on an error and scored when Parker Noland hit his 11th homer of the 2018 campaign, giving FHS a 2-0 lead.

The Mountaineers would answer with three runs in the top of the second.

Hammons re-tied things in the second with an RBI single.

The Mountaineers took a 4-3 lead when Blake Cooper scored on a groundout.