Premier Eyecare celebrates with new building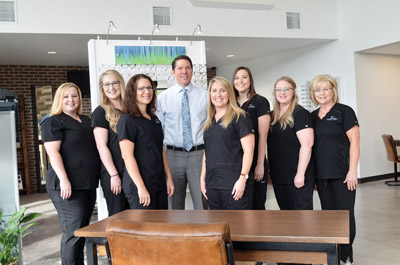 Optometric physician Dr. Brent Fry with Premier Eyecare employees, from left, Erin Pendleton, certified optometric technician; Mallory Mathis, optometric technician; Jessica Welborn, licensed dispensing optician; Andrea Sams, front desk coordinator; Kristen Bryant, LDO; Jenny Freytag, LDO; and Mary Crabtree, office manager and LDO.

Dr. Brent Fry is celebrating his 20th year in optometry in a very big way: by relocating to an expansive new building for his eye clinic, Premier Eyecare.

The new site, 11111 Kingston Pike, is just east of its previous location and more than doubles the clinic's floor space, from 2,400 to 5,500 square feet.

Fry had been in the previous building for 15 years, having opened Premier Eyecare in 2002, when he "came home" following four years of optometry practice in Nashville.

He and his staff moved into the new location the first week of April and had a few finishing touches to take care of before hosting its open house/grand opening, which will be from 3 to 7 p.m., Thursday, May 24.

Farragut Mayor Ralph McGill and Knox County Mayor Tim Burchett, along with Farragut West Knox Chamber of Commerce members, will take part in a ribbon cutting at 3:15 p.m. Guests will be treated to office tours and light refreshments until 7 p.m., along with prizes, special sales and giveaways in conjunction with broadcast media promotion.

The festivities would be the culmination of Fry's expansion plan, which he first entertained in 2010.

"We were growing out of our space," he recalled.

Initially adding about 500 square feet when a neighboring tenant relocated "was not a optimal solution, however," said Fry, who continued to explore other options.

He was committed to staying in Farragut "as a Farragut business," he said, adding, "This is my home (and) my heritage."

Not only did Fry want to physically expand, but he also saw a product void he believed he could address.

"My dream was that (patients) would come in to Farragut, and shop retail for glasses and sunglasses. I wanted to be able to provide high-quality glasses, while I felt that many of the other glasses stores were more about volume."

So began the process of procuring the neighboring land and working with Town of Farragut officials and other professionals on the design.

Rouse Construction built the structure, on which Fry worked with Studio 4 Design on the actual design.

"I had a vision, and they did a great job making it a reality," he said. "I wanted to make it a pretty building — one that would help bring people to Farragut.

"We have customers from (as far away as) Kentucky, and if they come here, they will also likely shop and eat here, too.

"I am investing in the community, and would like to see more businesses do that."

Fry partnered with two other owners on the building itself, which has four additional spaces, offering a total of 5,000 square feet available for rent.

He said they are looking for businesses compatible with the level of service and high-quality product Premier Eyecare already provides to its patients.

In keeping with his dream, the business is offering more than 1,000 frames including Maui Jim, Costa, Silhouette, Tom Ford and Tiffany & Co.

"We have higher-end (products), but can really fit any budget," Fry said. "But the real thing we offer is state-of-the art lens designs, with Hoya being our featured lens line."

Non-patients may purchase glasses at Premier Eyecare, which also offers both prescription and non-prescription sunglasses.

But first and foremost, Premier Eyecare is a full-service, full-scope practice. It serves all ages, from infants to elderly patients, and treats glaucoma, dry eye, cataracts and ocular disease.

The office also works and consults with surgeons who perform LASIK, cataract and retinal operations.

"We also perform diabetic eye exams," he said. "Many people think they must go (elsewhere), but we can do that, too."

"The patient experience is what we are all about," he said. "We provide the very best care we can. We take time to listen (to our patients), and customize for each individual."

Additionally, Fry is looking to expand his own business and is interviewing for an associate doctor who also would see patients.

He said he is most proud of his employees, who include four licensed opticians, three certified optometric technicians and one studying for her license among his eight-member staff.

Fry and his four brothers — his twin, Bruce, along with Paul, Steve and Mark — grew up in Farragut, and their parents, Al and Rosemary Fry, still live in the family home in Fox Den.

He graduated from Farragut High School then attended and graduated from both David Lipscomb University in Nashville and Southern College of Optometry in Memphis.

Fry and his wife, Melinda Fry, have two children, Mason and Lily, both of whom attend Farragut High School.

For more information, call 865-966-0100, e-mail appointments@premier-eyecare.net, or visit www.premier-eyecare.net.