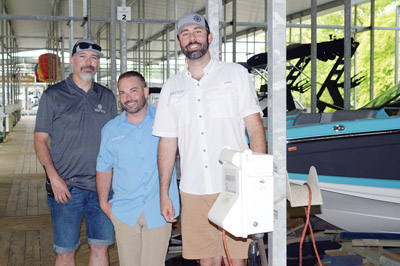 Scott Payne, center, owner of Nautical Boat Club, joins Nautical's manager, Stephen Kasper, right, and dock master, David Holler in front of the Nautical fleet at Concord Marina.

Boaters no longer have to invest a fortune to have fun on the lake.

Nautical Boat Club at Concord Marina, along Northshore Drive in Concord, offers the recreation experience on Fort Loudoun Lake with fewer costs and hassles.

Scott Payne, who owns Nautical Boat Club with his wife, Becca, compared his business to a country club.

"With a country club, you pay a joining fee when you sign up and then you pay monthly dues to have access to the amenities," he said. "Here, our amenities obviously are the boats and the water toys."

Nautical Boat Club has a fleet of 10 boats and such water toys as waterskis, wakeboards, knee boards and inner tubes.

Nautical members have unlimited use of the boats and toys in the club's fleet and are not limited to how often they can use the amenities, Scott Payne said.

"We had members last year who boated 10 times, and we had members who boated over 50 times."

Payne compared those numbers to a typical boat owner, who "because of all the hassle involved in owning a boat, may only boat 10 to 15 times a year."

The boat club takes care of all maintenance, upkeep, fuel and clean-up, he said.

'The boat's ready to go — it's clean; it's full of fuel; and it has water toys and life vests on it," he added.

Payne and his family had moved from the West Texas desert to Knoxville to start a new business.

"We said, 'with as much water there is around here, we've got to be able to find some way to make money on the water, do what we love and still make a living at it,'" he said.

The Paynes opened Nautical Boat at Concord Marina, managed by Stephen Kasper, April 19, 2017. David Holler is dock master for the Paynes.

"(Business) has been great," Payne said. "We had a really strong first year. We actually did better than our projections, (which were) based on other clubs and what they had done when they opened.

"And, we've gotten a great membership," he added.

The Paynes chose Concord Marina because it fit their needs.

"We looked at just about every marina on Fort Loudoun (Lake)," Payne said. "This marina was prime spot for our demographics. Plus, in my opinion, it's the nicest marina in the Knoxville area."

The boat club concept has been around since the 1980s but has gotten a lot stronger in the last 10 years, he said.

Payne said the biggest factor is "not only do you have an aging population … who don't want to mess with (boat ownership), but you also have millennials coming into the equation.

"Millennials lease property because they don't want to own," Payne said. "They don't want to have to do the no-fun part of it. They just want to use it."

Another factor is busy schedules of people nowadays, Payne added.

"We're just so convenient for them to go boating," he said.

Payne went into the boat club business because he wanted to share the experiences he has had on the water with others.

"I grew up on the water," he said. "From 3 months old, my parents had me on a boat. We either went camping with a boat or had a lake house.

"I've always been at peace on the water," Payne added. "I tell people, 'it is well with my soul' when I can see water."

Boating also allows him to form bonds with his wife and children.

"You're just enjoying each other," Payne said. "That sticks in my mind, so I wanted to be able to share that with as many people as possible, help them form and strengthen those relationships through boating.

"Our saying is '(boating) is cultivating relationships through life on the water,' and that's what we go by. That's the why we do what we do," he said.

For more information, including membership fees, about Nautical Boat Club, visit online at nauticalboatclub.com or call 865-234-0000.