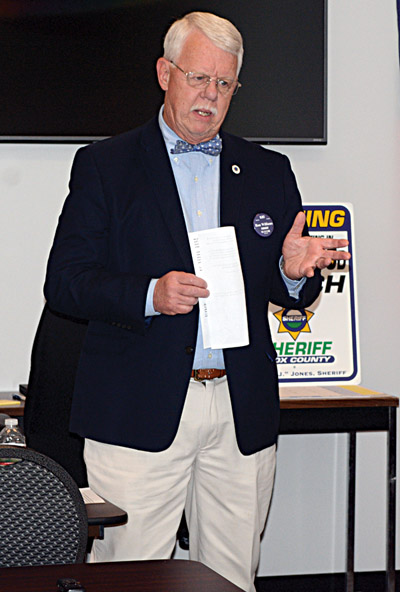 Williams

Farragut Alderman Ron Williams said his lifelong hunger to learn is a vital component in his bid to become mayor of Farragut.

"It's important to note that to be an effective mayor, you have to invest in continuing education. I'm a firm believer in that," Williams, who has been a Ward II (South) alderman since 2016, told Concord-Farragut Republican Club. Its Thursday, May 3, meeting was held in Knox County Sheriff's Office West Precinct in Turkey Creek.

Following "28 years as a field engineer for a family-owned machine tool manufacturer," Williams said, "I decided I would somehow like to use my project management experience in the development of our Town."

Saying he's "learned a lot from each" colleague on the Board of Mayor and Aldermen, Williams added, "I've also been fortunate to listen to and work with all the Farragut residents who have taken time from their busy days to attend workshops and open meetings that Alderman (Louise) Povlin and myself have sponsored on everything from budget information to road signs.

"I've listened and replied to over 500 e-mail and phone call concerns to work and help develop the proper solutions."

To be an "effective mayor, you must look at each project as a piece of the puzzle, and you must dedicate time to do research," he said.

"I was asked what's on my radar screen, and it's infrastructure updates for our roads, bridges, sidewalks and walking trails," Williams added. "We need to update our Land Use Plan, and that's under way as we speak. I'm part of that Steering Committee.

"We're working on a mixed use Town Center, we're hoping to get some developers involved. … Expansion of our parks and recreation (facilities). Whenever we took the survey, that was one of the things people asked for."

Moreover, "I feel if you're going to work with people, you need to do what they ask you to do instead of what you personally feel you want to do," Williams said.

While mentioning the progress of Campbell Station Inn renovation, he added, "We are are still working to try and get a senior center. The Strang Center is very limited on the use of it. It's very small and doesn't have much parking.

"We're trying to work with Knox County to see if maybe we can come up with something that will suit both our needs."

As for Town revenue, "When you look at the amount of money that we're losing from food tax, and from the Improve Act, and from the Hall Tax (phase out), those kinds of things run our Town," he said.

With no property tax revenue, "… Half of the sales tax goes to Knox County," Williams added. "That leaves us with a small amount to make a budget out of."

Concerning the question, "what can we do to pick up what we're losing?" Williams answered, "One of the things you can do is get a tourism program going."

Pointing out various tourism draws in and close to Town, Williams said, "If you can get more people into these hotels, and more people eating in our restaurants, then that generates more sales tax — and more sales tax is what will help fund our budget, based on what we're losing."

Seeking knowledge about how the Town functions, "I started out by attending every meeting that had anything to do with our Town, to learn how all that worked," Williams said. "I saw real quick that there was the need to invest some time in federal, state, county and UT classes that were offered in order to come up to speed and be current with what was going on."

Williams also is a second-term member of the Town's Board of Zoning Appeals.

"The classes I took in college were basic foundation — but things had definitely changed since the old Cas Walker days," he said with laugher in response. "What was relevant 10 years ago is now just old news."

Looking back on his working career, "I started as an apprentice machinist," which included machining parts "for defense and military projects" and "to build all types of race engines," Williams said.

He then took advantage of "a great opportunity in Southern California to run a manufacturing plant" which included doing "defense and military work.

"At the end of my five-year contract I accepted an offer to move back to Tennessee," Williams added, which began his 28-year career as a field engineer.