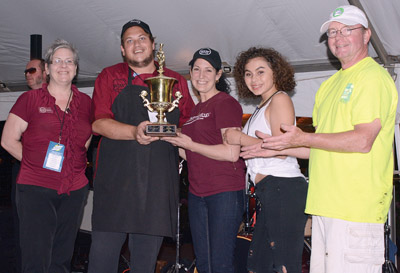 Claiming the "Best of Taste" trophy, as voted on by participants in Farragut Food & Wine Fest 9 Friday evening, May 4, was Water Into Wine Bistro & Lounge, 607 N. Campbell Station Road. Holding the trophy are Candace Viox, owner, and Omar Samawi, head chef. Also on hand for the festivities, which were held in old Kroger parking lot across from Farragut High School along Kingston Pike, were Kerry Bosquez, left, catering coordinator, and Brooklyn Galindo, Viox's daughter. Presenting the award was Stephen Krempasky, Shop Farragut/Farragut Business Alliance executive director.

Clear skies, music and aromas of food wafting from booths greeted attendees arriving at Shop Farragut's 9th Annual Farragut Food and Wine Festival.

The event, held in the parking lot of the former Kroger shopping center Friday May 4, had more than 30 vendors that offered everything from barbecue to stuffed dates. While many opted to try samples from one booth to another, others preferred a sit-down meal at the Very Important Bites tent.

Meanwhile, the jazz band, Mighty Blue entertained the crowd.

When all was said and done, Water Into Wine Bistro & Lounge, 607 N. Campbell Station Road, won Best of Taste trophy for its samplings — as voted on by participants.

"I love it. It's great, — the environment, the food," former Farragut Mayor Eddy Ford said about the festival.

"We brought my sister," said Linda Ford, the former mayor's wife. "This is our second year. We came last year.

"We bought tickets for this year's (festival)," she said, adding despite last year's rain, they still had a good time.

"I like food festivals," Farragut resident Annette Sydes said. "I like supporting local events."

"It's fantastic," Megen Thompson of Farragut said about the event.

An estimated 700-plus attended the event, presented by Turkey Creek Medical Center, according to Steve Krempasky, Shop Farragut/Farragut Business Alliance executive director. "I'm hearing great comments. People are enjoying it."

"It's awesome," said Kara Tuggle of Citico, one of the food vendors. "Everyone is super-happy."

" It's great to be back at the old location." Krempasky said.

"I'm glad they moved it back here (at the former Kroger site)," attendee Jen Hileman said. "I didn't go when it was at the Renaissance.

"It's much better here," she added. "There's more parking and no mud when it rains."

The event also lucked out with the weather. While earlier rain clouds threatened the event, they dissipated.

"[The clouds] passed us by," Krempasky said. "After four years of rain, I'm glad to have nice weather."

Krempasky praised the sponsors, which also included TDS Telecom, SouthEast Bank, Grayson BMW, Costco Wholesale, EXIT Realty, TNBank, Event Rentals by Rothchild, Milestone Event Center, farragutpress, i105.3 WFIV FM, B 97.5 FM and Bingham Group.

"Without their support, we wouldn't have had the infrastructure," he said, referring to the tents.

"The vendors are happy," Krempasky said. "That's what it's all about — a chance (for the vendors) to meet people one-on -one and provide samples.

"And, we had a lot of good volunteers this year," he added.

Among the volunteers, FHS Honor Society members gave their time to the festival as part of their school commitment, and Krempasky's wife and children helped out.

"It's become a family affair," he added.

Rich Margiotta of Knoxville said he and Wendy Tater of Farragut attended because "it sounded like a great time here."

"We like wine, food and live music," Tater added.

Alen and Patricia Shepherd with EXIT Realty, one of the event's sponsors, were among the diners in the VIB tent.

"As a company, we feel like it's important to sponsor local events," Patricia said.

Regarding the VIB experience, she added, "I love it."

For Megan Cannon and Stacy Pearson of Farragut, the event was a moms' night out. "We like it," Pearson said. "The atmosphere is really good, and the food and wine and music."

The parking also was a plus, she added.