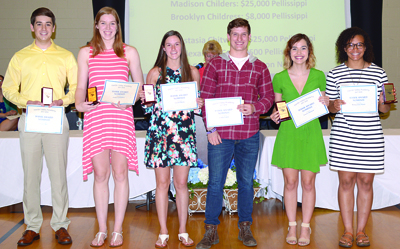 Hardin Valley Academy presented its six candidates for the Hawk Award during its Senior Celebration awards ceremony Friday, May 4. Candidates, from left, are Will Baker, Abbey Cornelius, Lizzie Davis, Cody Green, Emory Hockett and Kenya-Lee Sloan. The winner was to be named during HVA commencement exercises Wednesday, May 16, in UT's Thompson-Boling Arena.

Hardin Valley Academy celebrated its Class of 2018 accomplishments with its Senior

Celebration awards.

Students, faculty and parents gathered in the school's gymnasium Friday, May 4, to announce Hawk Award candidates and other top students in extracurricular activities and subject areas during the celebration, which was organized by librarian Suzanne Sherman.

"The Class of 2018 has played an incredibly significant role in continuing the Hardin Valley Academy tradition," HVA principal Sallee Reynolds said. "Hardin Valley Academy has held its own with all kinds of competitions — academic, athletic, extracurricular, vocational or otherwise."

For example, she said the Hawk Award is "the highest award voted on by Hardin Valley Academy faculty and is bestowed upon a graduating senior."

It is presented to a student whose "performance has exemplified the finest qualities of HVA," Reynolds added.

While the winner was announced during commencement ceremonies Wednesday, May 16, in UT's Thompson-Boling Arena, Hawk Award nominees are Will Baker, Abbe Cornelius, Lizzie Davis, Cody Green, Emory Hockett and Kenya-Lee Sloan.

Among the Teacher of the Year candidates — Candace Farrow, Jennifer Galloway, Joe Michalski, Cory Minzyk and Amanda Wash — Wash was named the winner.

Valedictorian is Ryan Hart. Salutatorian is John Klett.

Thomas Banker and Hart also were named National Merit Finalists, and Hart also received the National AP Scholar Award.

They join the other top 10: Baker, Cornelius, Abbey James, Irene Li, Seth Maxwell, John Niemeyer, Jodie Parham and Garrett Rowcliffe.

Reynolds also presented Heart of Hardin Valley Award to Henry Dearing. The award represents "an individual who has overcome many personal obstacles throughout his four years at HVA yet has maintained a positive attitude and a 'can do' spirit," she said.

Scholarships went to Davis, $2,000 First Tennessee Foundation; a stole to Kennedy Thomas and Tyra Thomas, National Achievers Society; Sloan, $250 DAR Good Citizen Award; James and Jordan Lyons, $750 National Honor Society; Sloan, a $1,000 Kaleb Fenton Memorial Scholarship; Ellie Hicks, $500 Jimmy Hua Memorial Scholarship; Joseph Ortiz, $500 Pioneer Award; and Tyra Thomas, $1,500 Alpha Pi Omega Foundation of Alpha Kappa Alpha Award.

HVA Parent-Teacher-Student Association awards went to Parham and Jaclyn Denton; James, $800; Sloan, $1,500.

Recognized for enlisting in the U.S. Armed Forces: Caden Hibbert, Pacey Hunter Johnson, Mahlon Holt and Jordan Ramsey Howe.

National Merit Scholarship Program commended students: Baker, Samuel Benson, Madeline Edminston, Austin Garcia, Loren Haas, Klett, Irene Li, Maxwell and Kaitlin Smith.

AP Scholars with scores of 3 or higher on three or more AP exams: Grace Barron, Kaley Beck, Samuel Benson, Kayley Boddy, Mary Kate Bosson, Madison Buckles, Alexander Coe, Ethan Collard, Megan Cox, Max Fleischhacker, Hanneloren Haas, Gretel Hernandez, James, Cameron Jeske, Jayon Joo, Andrew Knight, Sophia McDuffee, William Nicely, Niemeyer, Artem Smith, Kennedy Thomas, Trevor Walton, Lillian Weaver, Daniel Wells, Charlotte Whitmer and Preston Young.

Boddy delivered the senior speech, "A Decade Simplified."



• For the first time, the school presented awards in the Byington Solway Program. Recipients were: NCCER Welding: Louie De La Torre, Henry Dearing, Broderick Durham, Orion Mount and Grace Poliches; Construction: Brailyn Preyer-Jackson, Zachary Sherrod and Tristan

Spencer; Construction and Plumbing: Jacob Dill; Construction, Plumbing and Welding: Abraham Gale and Sergio Molina; Welding and Construction: Brian Lakatos; 2017-2018 Byington Solway Introduction to Electromechanical Student of the Year: Dearing; 2017-2019 Byington Solway Fire Sciences Student of the Year: Travis Kerr; 2017-2018 Byington Solway Math Student of the year: Emerald "Paige" Molloy.

• The Troutman Award in honor of HVA's first school counselor, Anne Troutman: Trey Cash and Sloan.

• Advocates for Life Awards: Jayden Blosser, Adisyn Beyer and Mikayla McDonald.

• Academy Awards were given for the following: Business, Law and Public Affairs Bill Gates Award, Bryce Stiles; Thurgood Marshall Award, Kenya-Lee Sloan; Pulitzer Award, Emory Hockett; Health Sciences Academy, Mikaela Chavis; Florence Nightingale, Maddy Arthur; Dr. Jonas Salk Award, Will Baker; Da Vinci Award, Kayley Boddy; Galileo Award, Laurin Fenton; Socrates Award, Loren Haas; Science, Technology, Engineering and Math Academy Science Award,

Kaitlyn Stephens; Technology Award, Irene Li; Engineering, Kaitlin Smith; Mathematics, Tommy Banker; Bohr Award, Jodie Parham; Hawking Award, Seth Maxwell; and Meitner Award, Abigail Green.