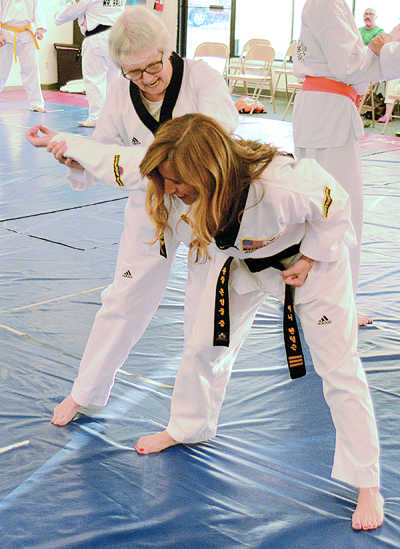 Joan Boling (wearing glasses), 83, performs a self-defense maneuver on Jenni Henderson, instructor at Eun's Martial Arts Center, 11110 Kingston Pike, during a class Thursday, May 3.

Pursuing a martial arts blackbelt in her mid-50s, Joan Boling needed about 27 more years to reach her goal.

Under the direction of Grand Master Seong J. Eun and his fellow instructors at Eun's Martial Arts Center, 11110 Kingston Pike in Aspen Square, Boling recently earned the coveted Tae Kwon Do blackbelt — at age 83.

"This is the third time I've started a martial arts class," she said, citing "job interference" as the main reason she had to give up her previous two attempts to earn a blackbelt.

"I was out of town a lot," she added.

"Almost a brown (belt) the first time, which was 1991 … (attending) for a couple of years. … And the second time, which I think was 2004, I don't remember how far I was."

However, having retired, Boling said she decided about three-and-a-half years ago to once again pursue a blackbelt.

"It was a goal I hadn't reached," he said. "I have a friend who is a blackbelt in Isshinryu, and I got a hold of him … and I said, 'I'd like to finish what I've started twice. What do you think?'

"And he said, 'Go for it, but be careful where you go,'" she added. "So I got on the Internet, and I don't live that far from here — Old Boxwood Hills, between Parkside Drive and Kingston Pike.

"So I pulled up everything within a two-mile radius and sent it to him. The minute he saw this one he said, 'go for it.' He saw (Eun's) credentials."

She joined Eun's classes more than three years ago, and has attended two one-hour classes per week.

"The experience has been great because he has been patient … it took some patience to get my kicks to where they needed to be," Boling said. "… (Eun) has been absolutely superb. You can't beat him.

"… He has phenomenal instructors and anytime you need help they're right there. You couldn't ask for a better situation for learning," she added. "This group is terrific. … He has kind of a family atmosphere here."

As for personal benefits, "It's good for the mind because you're constantly learning," she said. "It's good for the spirit because this group keeps you going."

"She practices always with the young people," Eun said. "… She doesn't want special attention, she wants to try really hard working with the other students.

"She's been amazing," he added. "… She's made a lot of progress with her confidence and physical condition.

"Can you believe she's almost 84 years old and working with the young people?"

Boling is not the only student older than 75. "There's another one 76 or 77," she said.

Boling and husband, Max Boling, have four children and five grandchildren.