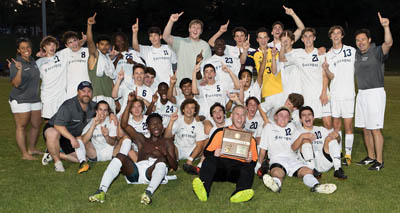 Happy Farragut soccer players and coaches enjoy a District 4-AAA Tournament championship celebration.

Wes Jeter may have provided the offense that netted the Farragut High School boys soccer team a District 4-AAA championship Saturday night, May 12, but he admitted he wasn't the best player on the pitch for the Admirals.

"I might've scored the goals but (first-year senior goalkeeper) Shayne (Miller) was our MVP tonight," Jeter said after Farragut downed Maryville 2-0 in the District 4-AAA Tournament championship match at Farragut Soccer Stadium. "He was amazing.

"He was really our MVP."

Rebels head coach Steve Feather agreed.

"Their keeper, man, he got to everything. He did a great job and Farragut outplayed us tonight," Feather said. "I think we outplayed them the first time and I think they would tell you that.

"But tonight they outplayed us. We didn't take advantage of the things they gave us. ... I want to say that we want to take what other teams give us. But tonight, we didn't do that."

Miller made six point-blank saves in the second half and preserved the title for the top-seeded Admirals (11-5-2), and many of those shots came off the foot of senior forward Chatham Headrick, one of the league's top strikers.

"Farragut's keeper got to everything. He stopped Chatham Headrick and he usually makes those shots," Feather said.

It was Headrick who had the equalizer that helped Maryville (13-4-3) salvage a 1-1 draw in the meeting between the two rivals during the regular season.

Miller said he knew that he would have to be on top of his game against the Rebels.

"I knew that we would be in for a test, and they got some great shots." said Miller, who spent the last three spring sports seasons as a bullpen catcher for the FHS baseball team while also playing club soccer.

The Ads had their share of chances at the net. Jeter gave them a 1-0 lead when he promptly headed the ball past Maryville netminder Andrew Yarlett and into the back of the Rebels' net in the 16th minute. Pablo Herrera picked up an assist.

"Pablo just gave me a great ball and I put my head up," Jeter said. "He got it to me and I was able to head it in."

"Wes is a great player, and I think he has 18 goals," Farragut head coach Ray Dover said. "He got a beautiful ball from Pablo and he headed it into the net. Then, he got robbed by the post about three minutes later."

Jeter scored the game's final tally in the 65th minute.

"It's great to win a championship, but we have to continue to get better at this point in the season," Dover said.