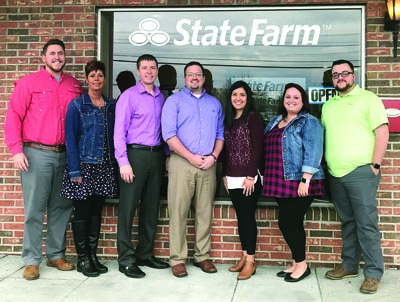 Josh Hemphill State Farm has amplified an already award-winning agency, cracking the top 50 among more than 19,000 State Farm agencies in the United States in 2017.

And doing so in just three years from its Farragut office, 11420 Kingston Pike.

Attaining President's Club Multiple Line status, "We're ranked 32nd in the nation of all State Farms … and No. 2 in Tennessee," said Josh Hemphill, agency owner. "It's pretty spectacular.

"That is truly the best of the best. … They take your annual production on all product lines — auto, fire, life, health (insurance) and bank (services) — and they rank you," he added.

"I think we do a lot of things right. … My belief is that we truly find out what the client needs. We don't just (say), 'hey we want to save you money on your car insurance and call it a day.'"

In addition to discounts, "We want to sit down with you and build a relationship; get to know you, get to know your family and make sure you're covered … and well-protected," the owner said.

Hemphill was quick to credit his staff: Bradley James, sales manager; Zenia Hartsfield, bank specialist; Teresa Hurst, office manager; Lacey Hepler, sales representative; Amanda Hemphill, marketing director and Josh's wife; and Kaleb McAlpin, agent aspirant.

The award "is a reflection of what they do on a day-to-day basis. … With integrity, doing things the right way," Hemphill said. "We don't win these awards just based on selling.

"You've got to have great customer service, you've got to have a great claims follow-up system," he added.

Looking back, "I found out we were ranked 78th (nationally) in May of last year, and I said (to my staff), 'guys if we make a run we've got a shot'" at reaching President's top-50 status, Hemphill said.

"We really increased our community involvement," he added. "… People want to do business with small business owners who give back to the community, with us being involved in the school system and Farragut events."

The Farragut agency also earned Million Dollar Round Table award for a third consecutive year in 2017— each full year the agency has existed — "based on life (insurance) and financial services lives protected," or sales, Hemphill said.

The agency opened in November 2014.