RCF's Lawrence, a veteran, 'treasures' HonorAir trip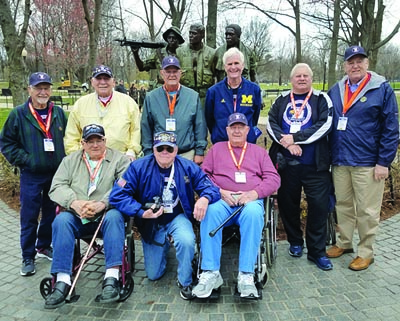 Lawrence, standing far right, joins a group of veterans at the Vietnam Veteran statue in Washington, D.C.

An HonorAir trip to Washington, D.C., was a very personal and emotional one for Rotary Club of Farragut member Ron Lawrence.

"This was one of the most fantastic trips I have ever been on," the U.S. Air Force veteran told fellow Rotarians during a RCF meeting at Costco Wholesale Wednesday, May 9. "I will treasure this the rest of my life."

Lawrence's eyes welled with tears at times as he related his experience among the war memorials.

He was an aerial port detachment commander from 1966 to 1970, and was stationed overseas in Korea, Japan, Philippines, Taiwan and one weekend in Vietnam.

"I was responsible for managing the loading and unloading of airplanes," he said.

On April 11, Lawrence joined 131 other veterans from World War II and the Korean and Vietnam conflicts who took the trip, organized by HonorAir Knoxville.

The mission of HonorAir Knoxville, founded by Prestige Cleaners owner Eddie Mannis, is to help World War II, Korean and Vietnam War veterans see memorials built to honor their sacrifice, free of charge.

Lawrence was one of four Loudon County veterans who made the flight. The oldest one on the trip was a 96-year-old World War II veteran.

"As we taxied down to the runway all the flags were there," he said. "That was awesome … but the best was yet to come."

When they arrived at the airport in Washington, D.C., a cheering crowd greeted them; water cannons saluted the veterans; and patriotic music played, Lawrence said.

U.S. Rep. John J. "Jimmy" Duncan Jr. (R-2nd District) met the flight in Washington, and Lawrence received a certificate and flag flown over the U.S. Capitol.

"This is now a family heirloom for sure," he said.

Lawrence shared photographs of the sights they visited, including Air Force Monument, Jefferson Memorial and Reflecting Pool, National World War II Memorial, Korean War Memorial, Vietnam Veterans Memorial and Tomb of the Unknown Soldier.

"I had been (to the Vietnam Veterans Memorial) before," he said. "I have two friends' (names) etched there."

For Lawrence, however, the Tomb of the Unknown Soldier and National World War II memorials were the "most impressive and most beautiful to me."

Lawrence observed, "You would see men in their 70s with tears in their eyes."

Yet, the most personal moment was when three young girls came up to him, and the oldest, about 12, told him: "I'd like to thank you for your service."

When the group returned home, another crowd of about 2,000 welcomed them back to Knoxville.

The veterans also were treated to "mail call." Lawrence explained anyone from school children to senior citizens may write a letter to the veterans and take it to Prestige Cleaners, 11428 Kingston Pike in Farragut. There the letters are sorted and distributed to HonorAir veterans.

To apply for a flight as a veteran or escort or support a flight, visit www.honorairknoxville.com.