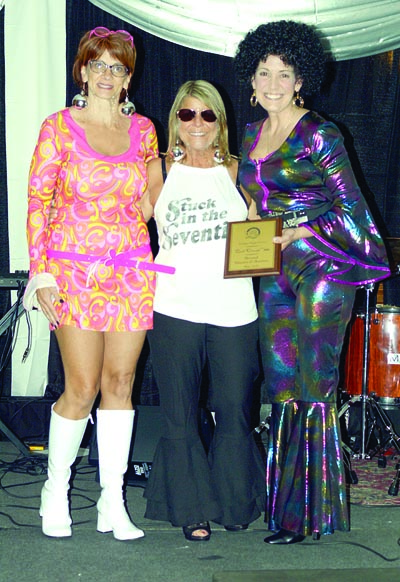 Candace Viox, right, owner of Water Into Wine Bistro & Lounge in Farragut, won first place for her tabletop auction display at the 2018 Farrragut West Knox Chamber Auction, which took place at Rothchild Catering & Conference Center in West Knoxville Friday, May 18. Joining her were Beverly Kobus, left, BK Lash & Skin Boutique, and Arlene Weinstein, Arlene's Fun Travel. Second-place winners were His Security and OYSK 3 architects. Third-place winner was Y-12 Federal Credit Union.

Hundreds turned out — many decked out in 1970s attire — to enjoy this year's Farragut West Knox Chamber of Commerce's 31st Annual Silent and Live Auction and dinner.

The "Friday Night Fever-themed" event, presented by TDS Telecom at Rothchild Catering & Conference Center Friday, May 18, offered hundreds of silent and live auction items, dancing and dinner via food stations.

"I certainly hope our guests enjoyed the food stations that Rothchild came up with, the music by The Boogie Knights and our dance demonstrations by Go Dance," said Julie Blaylock, Chamber president/CEO.

"We wanted this year to really reflect the energy of the theme 'Friday Night Fever' and give people lots to see, do, hear and, of course, bid on, and I think we did that.

"It takes a lot of hands to keep (FWKCC) going and growing," she added, estimating between 225 and 235 attended.

"I was so proud of all the work put in by our committee members and how it came together in the form of the silent auction and live items.

Blaylock recognized sponsors, board of directors, Chamber members and event committee members for their work and participation in its efforts.

Other sponsors included Town of Farragut, Rothchild, Pinnacle Financial Partners, NHC Farragut, farragutpress, viamedia and "bling" sponsor Rick Terry, owner of Rick Terry Jewelry Designs.

She presented a $1,000 continuing scholarship to Farragut High School senior Erin Collins, who has been interning for the Chamber since February.

Blaylock also presented a $1,600 contribution, which was part of ticket sales proceeds from the auction, to Nicole Chandler, The Change Center executive director.

Blaylock said that donation and scholarship to Collins were two of her favorite parts of the event.

" I feel very lucky to get to be a part of this Chamber's efforts to support the community in those ways," she added.

Attendees had chances to bid on everything from gift certificates to a Grayson BMW Driving Experience Package — and a hot air balloon ride.

"I thought we had a ton of fantastic items to sell, and the guests seemed to think so, too, considering I only won one of the dozen items I bid on," Blaylock said.

Tabletop packages also were up for grabs at the live auction, headed by auctioneer Bear Stephenson with Stephenson Realty & Auction in Clinton.

"Our tabletop builders blew me away," Blaylock said. "Walking into the ballroom a few hours before 6 p.m. was like walking into a Christmas toy store display as a kid.

"I could not believe the level of creativity that each of our nine builders brought to the table — literally — with their unique themes, lights, automated disco balls and working roller coasters," she added

Guests voted on their top pick for their favorite tabletops, and the winners were: Water Into Wine Bistro & Lounge, first place for "Friday Night & Fine Wine;" His Security and OYSK 3 architects, second place for "Friday Night Cabin Fever;" and Y-12 Federal Credit Union, third place for "Urban Cowboy."

Tabletop contributors also included: The Bingham Group, which offered "Disco in the Sky" package; Chick-Fil-A "Caught Chick-Fil-A Fever?;" Climate Storage "Stay Climate Cool;" Cumulus Media: NewsTalk 98.7 & Sports Animal "Cumulus Fever;" farragutpress "Sights & Sounds of the 70s;" and Fastsigns "Grease is the Word."

Rick Terry, owner of Rick Terry Jewelry Designs, offered another highlight for the evening when he sold sets of Swarovski crystal and sterling silver drop earrings, each of which had a $40 value, for $25.

Each set was wrapped in a box, and one of those boxes had the winning ribbon, which allowed that guest to claim a $2,300 14-karat white gold "Diamonds by the Yard" necklace No one opened the boxes until Terry announced they could be opened.

Marci Stiles had the winning ribbon (see photo on this page).