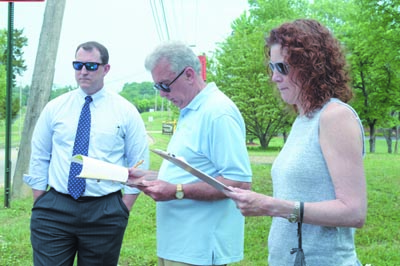 From left, Town of Farragut administrator David Smoak, Vice Mayor Ron Pinchok and Alderman Louise Povlin discuss land uses along Watt Road during a field trip meeting along Watt Road Tuesday, May 15.

Farragut Board of Mayor and Aldermen and planners took a field trip along Watt Road Tuesday, May 15, to determine potential areas for sidewalks, crosswalks and best land uses.

One resident, Jon Greene, president of Orchid Grove subdivision, also attended. While Greene said 18-wheel transfer trucks using Watt Road 'is not a big problem," he observed there still is a lot of traffic.

While looking at places for sidewalks and crosswalks, Farragut Community Development director Mark Shipley reminded Board members that subdivisions and other neighborhoods across Watt Road from the park need better connectivity to the park so residents don't have to drive there.

Alderman Louise Povlin said she also would like to see traffic-calming measures along Watt Road to reduce speeding.

Along the western side of Watt Road, Town administrator David Smoak pointed out the ground slopes down before getting to the park's ballfield.

"It's a tight fit (to put in sidewalks)," Smoak said. "You have a better opportunity to have them southwest on the other side (of the park)."

Shipley also pointed out, "This is not a flat road. You will need to consider the sight distances.

"... You also need to think about land use and parcels that could be a good fit for commercial (use)," he added.

The group stopped at property across from Fleenor Road, which Shipley labeled as one of the key properties for the Board's radar.

Shipley said that property could lend itself to transition from residential to commercial.

"It's really critical," he added about the property, which also is located beside the fire station. "You need to make sure there is protection for existing properties, but you also want something that can be integrated with the park."

Alderman Ron Pinchok said that property could be park property some day.

Shipley also pointed out one of the sidewalks along Watt Road is not up to current design standards.

"This sidewalk (was built with) the old (Town building design) standards," he said, adding if it is replaced, it will have to meet current Town design standards and the sidewalk would be have to be wider.

"It would give (pedestrians) more feeling of safety."

On the western side of Watt Road, he referred to property that potentially could be commercial in the future.

"We need to think about what kind of commercial you would like to see," Shipley said.

Povlin said her preference is neighborhood commercial, which would be a smaller development than a 'big box' development.

Watt Road already has one crosswalk, which is closer to Kingston Pike on the south end of the road. Shipley recommended upgrading the current crosswalk.

As the group walked up to Orchid Grove subdivision, Board members and Shipley agreed another crosswalk location could be at an area just past Sedgefield subdivision, where there is better sight distance.

Shipley also said Board members should consider is the road's curb appeal to attract the kinds of development they want to see. He suggested hiring a landscape architect to come up with a plan.