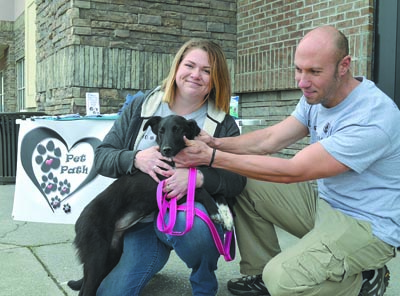 Amy and Johnny Guillot operate "Pet Path," a non-profit dog rescue just outside of West Knox County. The couple frequently brings some of their adoptable pooches to pet-friendly stores, such as Pet Smart in Turkey Creek, as they did in this photo earlier this year.

DaVita Kidney Care, which has branches at South Campbell Station Road and in Etowah, made a $1,325 donation to an area animal rescue organization founded by one of their employees.

The recipient, Pet Path, is operated by Campbell Station Road DaVita branch employee Amy Guillot and her husband, Johnny.

Amy Guillot said the contribution will go a long way toward supporting Pet Path's mission.

"This donation has given us the ability to proceed with installing a privacy fence, which borders our neighboring property line," she said. "We would not be able to continue to rescue dogs without [it].

"The great news is that it was enough to cover everything we needed, and the fence is completed. We are grateful and thrilled that we will be able to continue to save more lives."

In addition to the monetary donation, several DaVita employees also volunteered to help install the fencing and construct new dog enclosures and play yards.

"It is a pleasure for DaVita to support Pet Path," said Elaine Howell, a DaVita facility administrator. "Amy and her husband are so passionate about rescuing dogs from unfit environments and placing them with the right families that will provide them with a loving home."

The Guillots founded the non-profit Pet Path organization just outside of West Knox County nearly two years ago to rescue dogs that are homeless, abused, abandoned or at kill shelters.

They are originally from Louisiana, but moved north in 2010 "because we got tired of hurricanes," Johnny Guillot said.

The two have always been animal lovers, but finding two dogs on the side of the Interstate near Cookeville compelled the couple to personally combat dog abandonment. "We also looked on Pet Finder, and saw thousands of dogs in the area that needed homes, and we knew we had to do something," Amy said.

The idea was born to foster, socialize, spay and/or neuter and train dogs then match them with compatible owners which must pass a home inspection before bringing a Pet Path dog home.

Johnny Guillot said Pet Path has "been able to place more than 40 dogs since incorporating. If the adoption does not work out, the Guillots bring it back to the fold.

They spend many weekends at area pet stores, including Pet Smart in Turkey Creek, bringing several of their available pups to meet potential adopters.

To learn more, visit www.petpath.org or its Facebook page.

Today, the Guillots have four dogs of their own — including the two original rescues — and typically have about a dozen available for adoption at any given time.

They also work with other rescue organizations. "As long as the dog gets a forever home, we don't care," Amy said.