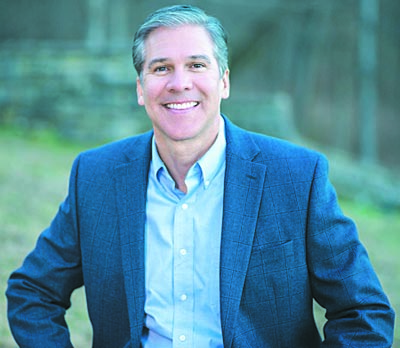 Mark Fry

Facing what for most would be a devastating diagnosis, a former Farragut resident has turned the experience into a recently-published book to help and encourage others.

Mark Fry, who now resides in Nashville with his wife and three children, released "Determined: Encouragement of Living Your Best Life with a Chronic Illness" in early April.

He drew upon his own 20-year battle with multiple sclerosis to write the book, which he faced with a positive attitude based in his strong Christian faith.

He shares his own story, beginning with his 1998 diagnosis. A dedicated runner who had participated in marathons, he looked to be health personified.

But it was actually during two separate non-competitive runs that he noticed body tingling and numbness that led to his illness being properly identified.

While he describes himself as a "glass half full" person in general, he said that first year "was hard."

"I tried to ignore it," he admits.

He said he never really "got negative" or "blamed God," but the realization of the permanent shift in his health did weigh on his mind.

Instead of growing angry or bitter, however, he began to find ways to positively address this sudden life change.

"You can have a disease, but the disease doesn't have you," Fry said.

He was able to start on injections and only recently moved to an infusion therapy. They help ease his physical symptoms and allow him to continue the physical activity he enjoys and views as therapy itself.

While he initially still ran, Fry added bicycling to his routine.

Fry also began looking outside of his own issues, seeing ways to possibly help ease the suffering of others, drawing on his faith.

He jumped right in to serve on National Multiple Sclerosis Society Mid-South Board of Trustees, and was able to pair his cycling enthusiasm with an MS fund-raiser, "Bike to Jack and Back."

The annual event is a 150 miles round-trip bike ride from Franklin to the Jack Daniels Distillery in Lynchburg and back, which is described as the largest fund-raiser for the Multiple Sclerosis Mid-South Chapter. For several years, Fry has been joined by his brothers — Bruce, Brent, Steve and Paul — on the rides, and even his dad, Al Fry, rode for a few years.

He also came up with an encouraging motto: "carpe pathos," or "seize the disease," which is a play on the "carpe diem" "Seize the Day" motto made popular by the movie "Dead Poets Society."

Through it all, Fry said he began to realize "my story glorifies God. It is not about me."

Yet another way to help others was through writing "Determined."

He said he had always enjoyed writing, and had been sending encouraging notes to others with chronic illnesses, when the idea to write a book began to formulate.

Fry took every Friday in December to write "Determined," which at 120 pages "is not a long read, but it (has) things I want to tell people about," he said. It also includes 21 companion devotionals. Chapter titles include "Why God? Why Me?" "Come to Grips with Your Illness," "To God be the Glory" and "Don't Live in the Past."

"I really wrote it to offer hope and encouragement through illness," He said. "The book is also for caregivers, too."

Fry grew up in Farragut, and attended Farragut schools, then Webb School of Knoxville, from where he graduated in 1985. He is a 1989 graduate of David Lipscomb University and has worked in pharmaceutical sales for the last 15 years. He and his wife, Jackie, have two sons, Kendrick and Clark, and a daughter, Anna.

For more information, visit halffullencouragement.com/.

Fry's book also is available through Amazon, in both hard cover and e-version.