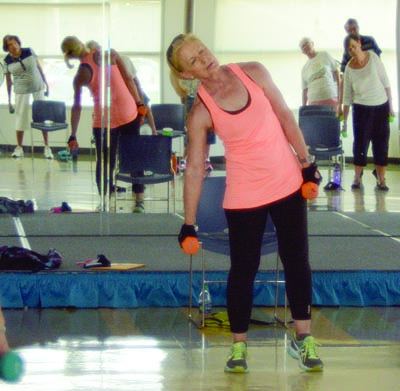 Kat Eldridge leads a Frank R. Strang Senior Center SAIL class.

Kat Eldridge has been a physically fit recreational athlete for decades — yet she discovered a problem with her balance a few years ago.

"I thought I had good balance because I've been active all my life," said Eldridge, a certified instructor in Stay Active and Independent for Life classes for senior adults — with the goal of reducing falls — which includes two classes weekly at Frank R. Strang Senior Center, 109 Lovell Heights Road.

Becoming a SAIL class participant in a program still largely unknown in the Southeast, yet having been offered through Knox County Health Department since 2009, "I was very surprised at how much better my balance became," she added.

"I started going to a program in Karns, which led to me going to a class and becoming a certified instructor for SAIL (since 2015)."

The hour-long class, which started less than a month ago, meets twice weekly at Strang: starting at 1:30 p.m., each Monday, and at 11:30 a.m., each Wednesday.

"It's been proven to work. When they did the initial research and studies, they saw a 25 percent reduction in the incidents of falls," said Rachel Frazier, a SAIL master trainer and a KCHD public health educator. "And also saw that people's balance and people's strength improved."

With SAIL classes, "You have balance and upper and lower body strength training," Eldridge said. "… But it needs to be fun. … And the socialization aspect of it is huge."

Eldridge said it's important not to force your body to do things it can't. "If your arm doesn't want to go straight up over your head, then don't try to put it up straight over your head," she said.

"Every person who attends the class gets a SAIL introductory book that tells you all about SAIL and how it's structured," Eldridge added. "… I give out handouts, if not at every class, at least at every other class about health, balance, what kind of shoes to wear and how to (apply) fall prevention in your home."

Filling out a "class participation form" helps Eldridge guide participants who have physical challenges and restrictions (injuries, arthritis, etc).

"… You don't have to stand, that's totally optional, and you don't have to sit," Eldridge said.

"As long as you keep doing the classes, your balance will improve — it's amazing," she said, adding, "consistency is the key. … SAIL recommends attending at least twice a week.

"One individual stated that on days she doesn't feel like coming, she said, 'the very next day my balance isn't what it should be. I can tell I have not been to class.'"

However, "I would rather see their face once a week than not at all," Eldridge added. "You won't get the full benefit of it, but doing something is better than doing nothing."

To watch a SAIL class online, visit www.knoxcounty.org "and go down to the Health Department, and in that you'll see SAIL," Eldridge said.

"In that video there are testimonials" such as, "'I no longer take blood pressure medication' … 'I've lost 20 pounds.' … 'I don't have the fear of falling anymore,'" she added.