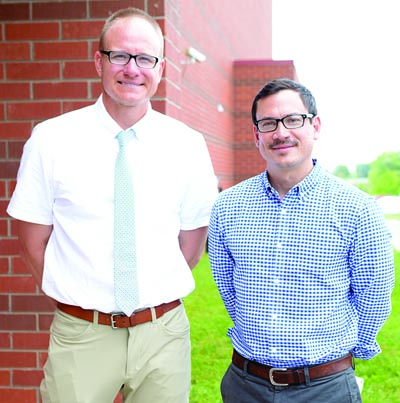 The observations of HVA math teachers Joe Michalski, left, and Cory Minzyk have been published in Tennessee Department of Education's April "Improving Inclusionary Practices to Support All Learners" action briefs, focuses on inclusiveness in classrooms.

Two Hardin Valley Academy math teachers recently have shared their personal accounts of integration of special education students into general classrooms in a Tennessee Department of Education publication.

Titled "Improving Inclusionary Practices to Support All Learners; Teacher Leaders: Taking Action to Ensure All Means All," it was released May 2.

Joe Michalski, who teaches honors pre-calculus, and Cory Minzyk, who teaches Algebra I and is a special education case manager, together are teaching Algebra II classes and two inclusion classes.

"It was cool for us to be able to share what it is that we do," Michalski said.

Their brief took about two months of work.

"We worked hard on it from December through January, and we put our final touch on it in February," he said.

The publication was a compilation of action briefs from teachers.

"The Tennessee Department of Education has gone around and selected teachers to publish their findings on different topics as a way to share (them) with the academic community what they're doing in the classroom on a day-to-day basis," Michalski said.

"It's not a statistical (article) or anything like that," he added. "It's more of a personal account of what we believe and what we do.

"(Integration of special education students in general classrooms is) called inclusive classrooms," Minzyk said.

"You could walk in and you wouldn't know one (class) from the other," Michalski added.

"I think a lot of [the inclusion] stems from the idea they are trying to close the gap between special education and general education students," Minzyk said. "You can take (Individualized Education Program) at a glance, which discusses accommodations, but with my philosophy and (Michalski's) philosophy that anyone can do mathematics, it's encouraging for a lot of these kids.

"When they are told they have a disability and then they realize that, 'Oh, I can do this,'" he added.

This was their third year of teaching the classes together. "The numbers we've gotten from students have been pretty impressive," Minzyk said.

"We have a few with autism, one visually impaired student — so you talk about challenges in a classroom, you talk about disabilities, you talk about success — we've kind of put it all together in our classes," Michalski said.

He observed some of the students who are autistic or have aspects of autism "are our best students, so that's very encouraging.

"The love mathematics; they feed into it," Michalski added.