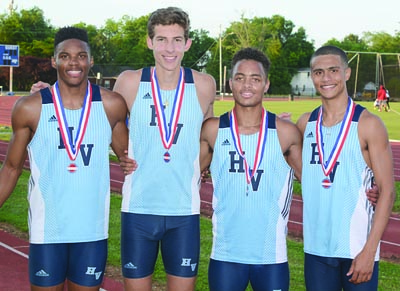 A happy quartet of Hardin Valley Academy relay runners celebrate a Division I Large Schools state crown in the 4 X 400-meter event Thursday evening, May 24, at Middle Tennessee State University's Dean A. Hayes Track and Soccer Stadium in Murfreesboro. From left are Willington Wright, Kenton Bachmann, Kelton Gunn and Miguel Parrilla.

MURFREESBORO --- Willington Wright competed in his final high school track meet on Thursday, May, 24, and he enjoyed a big day in the Division I Large Schools state championship meet at Middle Tennessee State University's Dean A. Hayes Track and Soccer Stadium.

But Wright said he was nervous in his second and final title meet at his future track home.

"At first, I was a little psyched out," said Wright, who ran anchor leg on the Hawks' state champion 4 x 400-meter relay team also featuring Miguel Parrilla, Kelton Gunn and Kenton Bachmann (3 minutes, 19.04 seconds), which helped the Hawks finish third in the team standings.

"I've just been coming here for two years and I've learned that your teammates always have your back," he added. "I've also learned that a team that prays together stays together."

Recently signing to run for the MTSU Blue Raiders, Wright took second in the triple jump (46-09.25). He won the 400-meter dash (47.77 seconds) and claimed sixth in the 200-meter dash (21.93).

"It feels great," Wright said.

In the 800-meter run, Bachmann finished second (1:55.34).

Hardin Valley also took second in the 4 x 800 (8:05.20).

Bearden senior Joshua Sobota, who will soon enroll at Kentucky, came home with two state championships. He broke his own state record in the discus (190-03 last season) as he posted a mark of 191-02.

Sobota also won the gold medal in shot put (65-01.75).

The Bulldogs finished seventh in the boys team standings despite competing in just three events.

"Everybody who competed made All-state," BHS head coach Patty Thewes said. "Everybody placed and Josh won both of his events. He shattered his own record in the discus."

Jake Renfree of Knoxville Catholic) won the 1600 with a time of 4:12.70.

Farragut's lone state entry, boys 4 x 200 relay, finished 10th.

In Large Schools Girls championships, Hardin Valley finished third as a team. KCHS was ninth.

The Lady Hawks took both first and second in the 800-meter run. Ellie Bachmann won the event with a time of 2:16.28. Kensi Gray came in second (2:16.99).

Hardin Valley took second in the 4 x 800. Lizzie Davis also finished tied for third in the high jump (5-02.00).

Catholic's girls won the 4 X 800 relay with the foursome of Elllie Wolski, Eleanor Mancini, Callie Tucker and Shila Kapaya (9:19.64).

The Lady Irish took two medals in the 3200 as Kapaya finished third (11:15.07) and Tucker fourth (11:15.39).

In the Division II-A championships Friday, May 25, Webb School of Knoxville's girls took second place in the team standings.

The Lady Spartans finished behind Harding Academy (153 points). Webb amassed 125 team points. Christian Academy of Knoxville was third (83).

The Lady Spartans scored several key points in the field events.

Stephani Franks was second in the pole vault (9 feet, 6 inches). Sophie Ades claimed second in the triple jump (32-11.75). Kai Lanier finished third in long jump (16 feet, 7 inches).

Senior distance star Rebecca Story of CAK won the 800 (2:19.64), 1600 (5:03.93) and 3200 (11:00.07) to culminate her stellar high school career.

Webb's Nicki Naryani took second in the 1600, the 3200 and the 800. Lady Spartan Lindsay Holliday finish third in the 1600 and 3200. CAK's Olivia Rodgers was third in the 800.

In the sprints, Webb's Jasmine Jefferson won the 400-meter dash (59.36) and took second in the 100-meter dash (12.22) and the 200 (25.80).

In distance relays, the Lady Spartans won the 4 x 800 and the 4 x 100. CAK captured the 4 x 400 with Webb taking second.

The Lady Warriors' McKenzie Blackurn was second in the pentathlon (2585 points). She also took second in the 400.

In the Boys Division II-A championships, CAK finished fourth and Webb finished ninth in the team standings.

The Spartans won the 4 X 200, with CAK finishing third.

Warrior Luke Etherton was second in the decathlon, while Myles Rasnick posted third-place finishes in the triple jump (42-02.50) and the high jump (6-02.00).

CAK's Josh Whitaker was third in pole vault (12-06.00). Luke Etherton finished third in discus (127-06).

Warrior Gabel Fulford took second in the 110-high hurdles (15.90) and third in the 300 hurdles (41.76).

Jahlil Jefferson of Webb was third in the 100 (10.99).