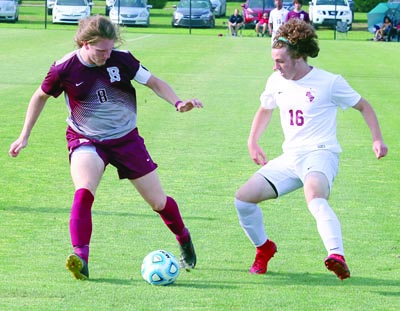 Bearden's Mitchell Mazrimas, left, tries to advance the ball past Station Camp's Adam Williams.

MURFREESBORO --- Bearden High School's boys soccer team saw its season come to an abrupt end in the semifinals of the Class AAA State Tournament.

The Bulldogs dropped a 3-0 decision to Station Camp, eventual state champion, Wednesday, May 23, at Richard Siegel Soccer Complex.

While Bearden head coach Ryan Radcliffe didn't take much consolation away from his side's season-ending loss, he said the trip to the midstate for Spring Fling was a valuable experience for his young Bulldogs squad, which ended the season with an 18-6-0 record.

"It was good for them," Radcliffe said. "We didn't get the result we wanted but I think the game was a lot closer than the 3-0 score would indicate. But that's soccer.

"We had some really good chances early but we just couldn't finish them," he added. "I think Station Camp is a good team. This was a good experience for us because we're so young."

However, "The tough thing about this is that Station Camp is young too," said Radcliffe, who guided Bearden to the 2016 Class AAA state championship. "Anytime you come through (Class) AAA, it's going to be a battle. Next year should be fun.

"We have a lot of juniors. Houston (which lost to the Bison in the quarterfinals Tuesday, May 22) is going to be good again and Farragut will be good again.

"Houston was good this year and Farragut was probably a top-8 team."

The Bulldogs may have been one of the youngest teams in the state tournament field. But Radcliffe wasn't looking to use his team's youth as an excuse for not winning another state title.

"We were young, and probably nobody expected to see us get this far," he said. "But we are Bearden. Anytime we go to the state tournament, I expect us to win a state championship.

"It was good to see the anger and the disappointment when we lost. But we really improved after we got off to that bad start," he added.

The SoccerDawgs advanced to the semifinals with a 2-1 victory versus Cookeville May 22.

Bearden scored first, as Collin Lewis tallied off a cross from Jonathan Meystrik in the 13th minute.

The Cavaliers (18-6-0) pulled even when Joshua Campbell scored just before halftime to make the score 1-1.

The SoccerDawgs tallied the game-winner in the 64th minute, on a goal by Ty Trikones from 40 yards out.